Hardrock Haven's Derric Miller to be published in anthology Superhero Monster Hunter: The Good Fight
"Sometimes one of us possesses power and ability greater than others. When we use these for the greater good, we become heroes. But it is not easy to be different, to carry the responsibility that comes with the power or to bear the burden of what else might come with it." This is the premise for the Emby Press anthology Superhero Monster Hunter: The Good Fight, and one of the stories featured in the anthology is "Grooge" by Derric Miller.
Miller was first published in 1995, in Aberrations Magazine, and then took nearly two decades off before picking up the pen again. Although he wasn't writing fiction during those years, he immersed himself in the field of music journalism at Hardrock Haven as the managing editor, penning hundreds of reviews, conducting hundreds of interviews with the biggest names in hard rock/heavy metal, writing liner notes for bands, ending up on albums with audio interviews on releases by Eden's Curse and Charlie Wayne, etc. … so the creative energy had another outlet.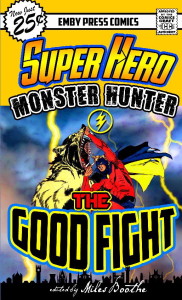 He began writing horror again in 2013, and during that time he published a heavy metal horror novella called Mudslingers, co-written with author — and Hardrock Haven writer — Mark Allen, that is available at Amazon. He currently has several short stories up for consideration at various magazines, anthologies and publishers, and "Grooge" is his next story to see print.
"I read an article about a mom driving her children into a lake and trying to kill them all, and I wondered exactly how a person would get to that point in life," said Miller on the story's background. "As a father of two I can't fathom it, so it'd have to be something supernatural … something evil … to make her. Later that day, when my son saw me flipping through the channels, he read the name of the movie I paused on and said 'Dad, what's the grooge?' The movie was actually 'The Grudge' but that's all it took … seconds later I had the whole story in my head."
Due out in August, Superhero Monster Hunter: The Good Fight is the latest in a series of Monster Hunter anthologies from Emby Press, an independent publisher of novels and anthologies in print and ebook formats. Look for the anthology at Amazon, Barnes & Noble, Emby Press (www.embypress.com) and other reputable sellers of good old fashioned horror stories.