by Deb Rao
– Senior Columnist —
Guitar virtuoso Ethan Brosh will join forces with Vinny Appice and Carmine Appice in New York City for Drum Wars. Ethan has also just released an instrumental album on Carmine's new label Rocker Records entitled Live The Dream. The Boston guitarist is about to battle and showcase his amazing guitar skills in one of the epic battles of the year Drum Wars.
In this exclusive interview Ethan discusses Drum Wars and his new album.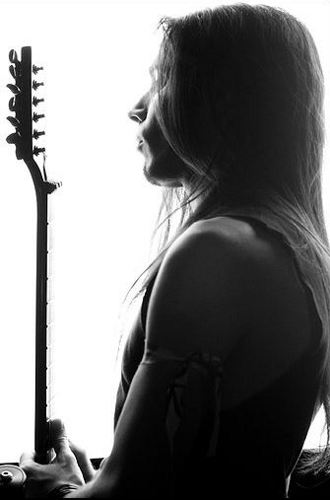 HRH: Ethan, welcome to Hardrock Haven. You have some big news. You are going to be going out on tour in New York with Drum Wars with Vinny and Carmine Appice. How did this all transpire?
Ethan: June 20 is at the Iridium in New York City. We are doing two shows back to back. Then on June 21 we are doing Poughkeepsie. These are all the dates for now. Probably more dates are going to be added later on. The way that it worked out was Carmine Appice he basically started a record label. It is called Rocker Records. I hooked up with him and he released my new record. It is called Live The Dream. That was released back in March. I think I am the first artist on his record label actually. So since then we just communicated more and more and he needed a guitar player for these New York shows. Because unfortunately the guitar player that was going to do that had a stroke and he was in a coma. I think he is doing a little bit better now. So I am going to be playing those shows in New York.
HRH: Tell us a little bit about the show. What can the fans expect to see at the shows?
Ethan: The show is pretty crazy. They did one show with me in Buffalo, NY. I opened that show just playing my own music. Then I played one song with them. I did "Bark At The Moon" with them. But I got to see the whole show. What they do is they set up a couple drum sets. One for Carmine and one for Vinny. The drum sets are in the front. The band is in the back. It is mostly a competition between the two drummers. One plays one song, then another song. Then they play some songs together. Basically the whole show is full of all of Dio songs, Sabbath songs. Basically, the hits songs throughout their career. They were in these giant bands, in the past. They are very influential drummers. It is just a very, very fun rock and roll show. There is a lot of talent onstage.
HRH: Tell us about your new CD Live The Dream. You had some special guest stars including Dave Ellfson.
Ethan: It actually already came out. It came out March 4 on Rocker Records. The CD release party happened at the Hard Rock in Boston on May 31. Yes, Dave plays on a couple of tracks. He came here to my studio when Megadeth were in town. He is a good friend. I used to work with him in another band called Angels of Babylon. I actually played the guitar solo in one of his projects. We are friends and sometimes we get the chance to work together. I appreciate him helping me out. Of course it is an honor for someone like him to participate.
HRH: Tell us a little bit about your history. Do you live in Boston now?
Ethan: I live in Boston. I was actually born in Upstate, NY. But when I was a year old, my parents went back to Israel. So I ended up growing up in Israel. Once I found out about Berklee, that was pretty much my excuse to come back to the United States. I always wanted to live here. I moved to Boston for Berklee. I ended up staying here ever since.
HRH: I am originally from Boston. It is a great music city. Do you play in Boston a lot?
Ethan: I had my first CD release party at the Middle East five years ago.
HRH: Who are some of your favorite guitar heroes that made you want to get into the business?
Ethan: The band that made me pick up the guitar in the first place was Iron Maiden. They are still my favorite band. At some point I have to open for them. It just has to happen. As far as guitar players, there is so many. Obviously, George Lynch and Greg Howe. I was lucky enough to have both of them play on my first record. Nuno Bettencourt and Jake E. Lee. Of course I love Yngwie Malmsteen. I try really hard not to rip him off. I feel that there are enough guys that can do that. No one can really touch Yngwie. He is the absolute best at what he does and what he pioneered. For me it was a blast being on tour with him. I was actually happy that he didn't think I was another clone.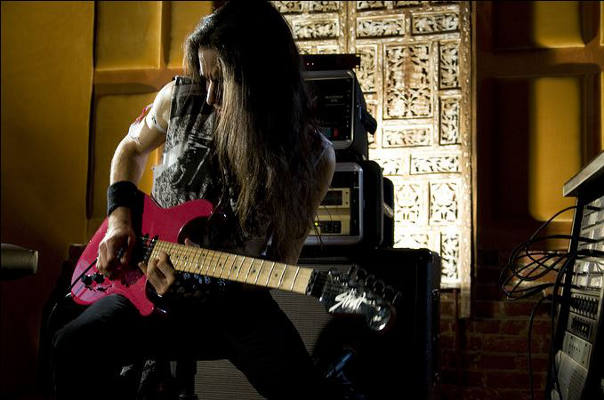 HRH: Do you feel guitar solos are finally coming back again? During the '90s they disappeared with grunge. How do you feel about the music scene today?
Ethan: I guess I am considered a pretty negative person about that. I don't think we ever really recovered from the '90s. I don't listen to music nowadays. I noticed that there are guitar solos again. Even if they were good, I am not really crazy about the songs or production. Once the guitar solos came back, I guess I realized it wasn't so much about the guitar solos it was more about the songs. There is one band that I am really into nowadays and it is the only band that I listen to after the '80s and that band is Steel Panther. They are the best band around these days.
HRH: Yes, they are cool. I have seen them in Vegas Is there anything else that you want to say about the Drum Wars shows and the new album Live The Dream?
Ethan: Live The Dream was a two year process for me writing and recording. Then it took me another year so to actually put it out there. It has been quite awhile since I started working on it. It is finally out. I am just curious to hear form people what they like about it and don't like about. I can't be objective. I really can't tell what is really a stand out. I spent a lot of time and effort on the production on this record. I got Max Norman who is a legendary producer to come out of retirement to mix this record. He did all the classic Ozzy records and of course Megadeth records. I am very happy that he came back and did the record. We tried to do it as real as possible. I actually tracked the drums to 2 inch. They were recorded analog. We mixed the record on a 48 channel SSL board in a really nice studio. After that we went to the greatest mastering engineer of all times Bob Ludwig. He mastered the record. I don't know how I could have created a better sounding record. I wouldn't know how to do it any better than this. I was fortunate to have two of the greatest engineers work on this record. I got to track it the best way I possibly could. There is one video for the album. It is for a track called "Space Invaders." That is a very straightforward heavy metal track. It is just one track off the record. There are many tracks on the record of variety. I encourage people to actually check out the whole record. They should get the CD and blast it really loud and really appreciate the way it needs to be heard.
HRH: You have worked with so many great musicians. Is there any guitarist that you would love to work with?
Ethan: Yes, there are a few of them. I would love to have Yngwie Malmsteen play a solo on a record. I got to tour with Yngwie Malmsteen, which is huge. A few months ago I got to open for Jake E. Lee which is one of my idols. I would love to have Adrian Smith from Iron Maiden play on my record.
HRH: Thank you Ethan for your time. We wish you the best of luck!
Visit Ethan Brosh online: www.facebook.com/ethan.brosh