by Alexandra Mrozowska
– Columnist —
With his instrumental album Voiceless out and the charity purpose behind its release, his tribute band Bon Jersey doing their best to impersonate the Jersey giants Bon Jovi and over 20-year tenure within the music industry – Rich Antonelli has a lot of interesting stories to tell. Even if – as in the case of Voiceless – it's only his guitar that speaks! Hardrock Haven caught up with Rich to talk the album, his tribute band, his musical past with $kyhigh, music industry (r)evolutions and more.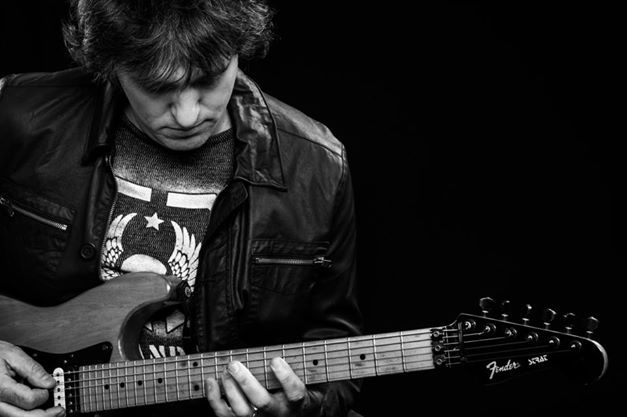 Hardrock Haven: Last year, you've released a solo instrumental album titled Voiceless. What was the reason behind releasing it?
Rich Antonelli: I had no intention of ever doing a solo album, let alone an instrumental album. The idea came about because of my daughter's battle with Crohn's disease. She was diagnosed at the age of seven and I wanted to do something positive and try to raise some money to donate to the wonderful hospital (Hasbro Childrens Hospital) that has been treating her.
Hardrock Haven: Voiceless is an instrumental album. What is your approach towards playing instrumental songs and what do you think is the difference is a listener's reception?
Rich Antonelli: I've never been a huge fan of instrumental albums, although I do like them for the most part. I always find myself wishing there were lyrics! My goal with Voiceless was to write songs that "could" have lyrics added to them. I didn't want it to be an album with 200 million notes. That bores me. I'm a big believer in melody so that's what I tried to do. I like songs with hooks.
Hardrock Haven: Voiceless was released independently from any record label. Do you think this kind of artistic independence is the future of music industry?
Rich Antonelli: I do. Labels over-saturate the mainstream with what they want the public to hear and like. I can't even listen to radio anymore because it seems like they have a 10-song playlist of whatever is the flavor of the week playing at any given time. Bands/artists should be able to make their own decisions since it is their music. It doesn't always play out that way but I like the way things are trending. Makes it a lot easier to have total control!
Hardrock Haven: Why is the album titled Voiceless? Please tell us about the charity concept behind it.
Rich Antonelli: The title wasn't a well thought out title … I figured, "there's no singing on this … there's no actual voice … so Voiceless it is!" I didn't really spend much time on that one. My main concern was the music and creating a good enough product that people might like enough to spend their hard-earned money on. And that money is all being donated to Hasbro, as I've already mentioned. I don't keep a dime from proceeds.
Hardrock Haven: You're not only a solo artist – at some point in your life you turned to playing in tribute acts. There's not much creativity within a tribute band – weren't you afraid to lose your creativity in the process?
Rich Antonelli: Growing up, I didn't really care for tribute or cover bands. I was young and only wanted to do my own thing. Then you grow up and realize that "Hey … I'm playing music, making some money for doing it and playing in front of pretty good crowds." I can still be creative now and then on my own time but being in a tribute band has been great … better than I imagined.
Hardrock Haven: For almost a decade you play in Bon Jersey – the Ultimate Bon Jovi Tribute Band, formerly known as Jovi. What kind of audience your performances gather – are there die-hard Bon Jovi fans only …?
Rich Antonelli: We get all kinds of people from four-year-old kids to 80-year-old rockers! It's really cool to see the wide range of audience we pull in. We have the die-hards but we also have people come up to us after a show to tell us that they weren't really Bon Jovi fans before seeing us. Now they want to go out and buy some of their music. I guess we're doing our jobs!
Hardrock Haven: How does the process of learning how to emulate Bon Jovi on stage look like? For example, do you watch their videos, gigs etc. and then try to emulate their facial expressions, gestures etc.?
Rich Antonelli: Yes and no. To me, I need to be comfortable on stage when performing. I do my best to emulate Richie but let's face it … there's only one Sambora … and I'm not him! As long as I can play his stuff for the most part and sound a little like him, I'm happy.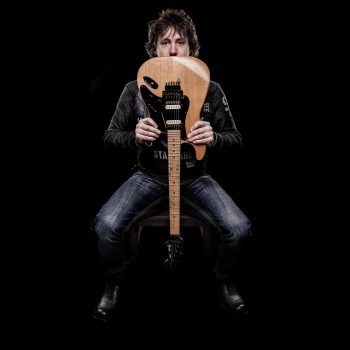 Hardrock Haven: With Bon Jovi, the situation is specific – with every subsequent decade of their on stage activity, they were changing image- and music-wise. Do Bon Jersey focus on any particular period of their career? What does your typical set list consist of?
Rich Antonelli: I think we tend to stick to the modern-day Bon Jovi style. There's no spandex or tassles, although there have been leather pants now and then. We play everything from album #1 to the most current. We tend to try to stick to the hits because that's what most audiences want to hear but now and then we will throw in an obscure song.
Hardrock Haven: Earlier on, you were a member of a hard rock act named $kyhigh. What were the circumstances of founding the band?
Rich Antonelli: $kyhigh was a garage band that became a performing band that became a recording band. We were just friends from high school that got together to have fun. Sounds boring, but it was a lot of fun back then.
Hardrock Haven: With $kyhigh, you released one album – Tales From The Crib (1996). What do you think about this album now? If given a time machine to use, would you go back and improve something?
Rich Antonelli: I still like the album. We released it on Perris Records and it actually sold pretty well, mainly overseas. If I could go back and change anything, I'd like a bigger budget for the studio to get things perfect. We also threw a cover of The Beatles' "Let It Be" on the album last minute but we left out a couple of sections of the song. We didn't listen to the original when we recorded it. I basically figured it out from memory on the piano and we just went with it.
Hardrock Haven: $kyhigh opened for the likes of Warrant, Slaughter, Cinderella, Quiet Riot or Sebastian Bach. Any stories you'd like to share, any memories you cherish in particular?
Rich Antonelli: The shows with Warrant were our favorite. They always treated us like equals, not just the opening band. I remember one time I took Jani Lane (RIP), Erik Turner and Jerry Dixon to a local pizza place because they wanted to eat. We got in my old Ford Tempo and took off. Jani was handling the business for the band, I think, and had this briefcase handcuffed to his wrist. He had on shorts and work boots and the looks on the people's faces in that pizza place when we walked in is something I probably won't forget!
Hardrock Haven: Why have you eventually parted ways with $kyhigh? When was it?
Rich Antonelli: It was just time. We had a good run … from around 1993 until 2002 or so if I remember correctly. We all had families, jobs, etc. Being in an original band is not an easy thing to sustain. We lost a lot more money than we made but there are no regrets.
Hardrock Haven: What was the '80s and early '90s music scene like from your perspective? Did the music industry change for better, or for worse since then?
Rich Antonelli: I loved the '80s. The '90s not so much. Everything got too gloomy, dark and pitiful in the '90s for my liking. There were some good bands then but I always like to skip over that decade. It made it hard for a band like $kyhigh to get any momentum going when labels were looking for the next Nirvana. We were far from that genre. Nowadays, I think it's easier to just find the music that inspires you … the internet and social media changed the way we find content. I never thought I'd be doing an interview with Hardrock Haven in 2014! (laughs)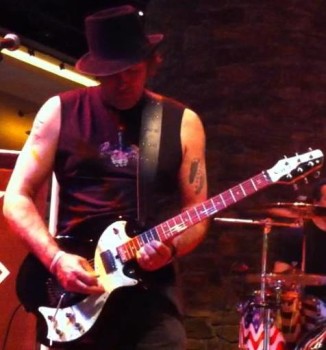 Hardrock Haven: According to your website, you started developing your musical talent by taking drum lessons. What made you turn to guitar later on?
Rich Antonelli: Eddie Van Halen. That's the easy and difficult answer. I heard him play and said the hell with these drums! I started teaching myself a little piano and then guitar. I do wish I had taken lessons when I first started.
Hardrock Haven: Apart from Richie Sambora, who's an obvious inspiration of yours, whom you'd call your main influences?
Rich Antonelli: Eddie Van Halen was the man for me growing up. I also admire Nuno Bettencourt for his insane percussive style of playing. Paul Gilbert for his totally off the wall ability. I'm too far down the road in my own playing style to even think of copping what these guys have accomplished. I'm grateful to have grown up in the era where I could just sit back and watch them.
Hardrock Haven: Towards the end, a question which only one Sambora fan can ask the other: if trapped on the deserted island with only one record, would you pick Stranger In This Town, Undiscovered Soul or Aftermath Of The Lowdown? And why?
Rich Antonelli: In this order: Stranger, Aftermath, Undiscovered. Stranger is just a classic album to me … no matter who put it out. The guitar tones and vocal tones on that album still hold up today. Aftermath was a pleasant surprise for me. I wish he didn't have to cut his solo tour short because from the footage of the European shows I saw, the band was just starting to gel when he had to cut it short.
Hardrock Haven: Thank you for the interview! Is there anything you'd like to add?
Rich Antonelli: Just a huge thank you to Hardrock Haven for helping spread the word about Voiceless. It's a very important part of my life and I hope your readers will at the very least check out some samples at my website (www.richardantonelli.com) and consider purchasing a song or two. It's a great cause and it not only helps kids with Crohn's disease, but other types of gastrointestinal issues.
Visit Rich Antonelli online: http://www.richardantonelli.com/