by Deb Rao
– Senior Columnist —
June 21st, 2014 at Backstage Bar and Billiards in Las Vegas, NV. —
Devour The Day made a special stop at Backstage Bar and Billiards in the heart of Fremont Street Experience. Backstage Bar is a new venue that has popped up in the area. The club is very hip and clean with a great sound system. It is exhilarating to see a new venue open to promote national touring bands.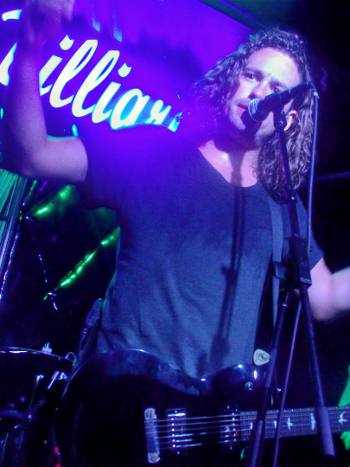 Devour The Day is no stranger to the music industry. The band features the core of the Egypt Central including Joey Chicago on bass, and Blake Allison on lead vocals and guitar. Hardrock Haven first introduced you to the band a year ago. This was my first time seeing the band live and I was deeply impressed by the energy of the band.
Devour The Day opened the show with "Get Out Of My Way." The band has a very heavy sound, almost skull crushing. Lead singer has a charismatic personality and a good voice. Highlight of the set included the ferocious "Handshakes To Fist Fights." Blake instructed everyone to JUMP on this song. With fists in the air, fans complied. It was only fitting that the band perform an Egypt Central hit "White Rabbit." I love the chord progressions on this song. The only slower song was a crowd favorite "Move On." This song is about a break-up and very catchy.
Devour The Day ended the set on a high note. As Blake cranked out the chords to the bands hit "Good Man" the crowd went ecstatic. This song is very powerful in concert. After the show the band greeted fans. I asked Blake if he enjoyed Vegas, Blake commented, "I love everything about Vegas." And surely the fans enjoyed the set. Hopefully, the band won't be a stranger in the future.
Set List:
Get Out Of My Way
You And Not Me
Handshakes To Fist Fights
Respect
Oath
Black Out
Move On
Good Man
Visit the band online: www.facebook.com/devourtheday