by Shawna McHenry
– Photographer —
May 31st, 2014 at Liberty Memorial in Kansas City, MO. —

Rain or shine, Kansas City's Rockfest has turned into a well-oiled machine. Staying true to the one-day event, two stages were erected: The Monster Energy Stage (main) and The Captain Morgan White Rum Stage. However, this year, both stages were reduced in height by 5 feet, making it easier for fans farther away to see more of the action. With the a lineup of 15 bands set, many of those bands have become regulars over the last five years. This year's festivities weathered the elements with rain showers. Zakk Wilde started it all off with his performance of the "Star Spangled Banner."
With an attempt to appeal to a wider audience, the music genres varied, including new hard rock, radio rock, '90s rock and metal Vegas-style comedy rock (Steel Panther). It was difficult to tell whether any single group stood out amongst its peers. New names added to the lineup included Pop Evil, The Pretty Reckless, Nothing More and the local band Syn City Cowboys.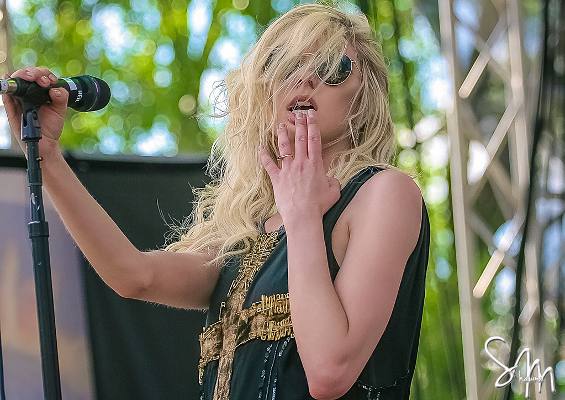 Besides the addition of zip line, the typical fireworks to close the show, the advertised, "… $5 food and beer (although they forget to tell you that's per item)," the concert went off mostly without a hitch. Unless you count Aaron Lewis of Staind, who stopped his performance to yell at several in the audience who were inappropriately abusing a teenage girl while she crowd-surfed. This went viral on YouTube, Twitter, etc.
While this year's show featured a more diverse crowd, the overall vibe of the event was status quo when compared to previous years. Plenty of litter and a destroyed landscape comes with such a large crowd and rain. But it looks like Kansas City survived another year; I guess we'll see you next year for another go around.
Lineup featured 15 bands:
Syn City Cowboys (KC local band)
Nothing More
Adelitas Way (Rockfest regulars)
Eve to Adam
Pop Evil
Heaven's Basement (British band)
Black Label Society
The Pretty Reckless
Steel Panther
Soil (reunited)
Staind (Ryan Lewis stopped mid-song to reprimand the main stage crowd for groping a teen female crowd surfer)
Escape The Fate
Five Finger Death Punch (Rockfest regulars)
Killswitch Engage
Korn (Rockfest headliner repeat – last stop of its tour after coming back from Europe)
LIVE! | KC Rockfest 2014 Concert Photo Gallery