by Kent McIntire
– Photojournalist —
June 10th, 2014 at Hi-Tone Café in Memphis, TN. —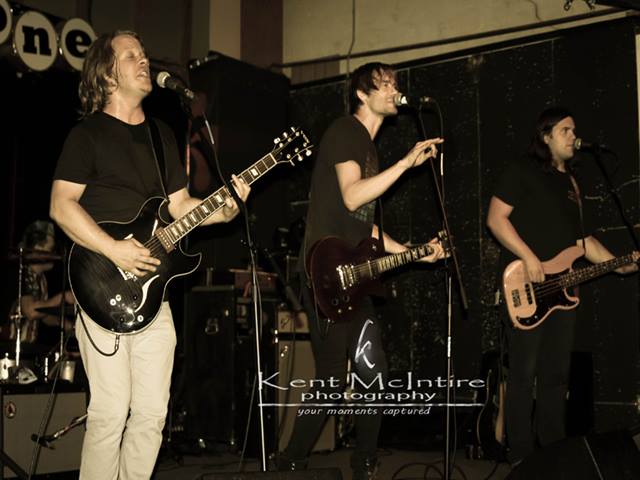 Who is Man On Earth? Where are they from? Why have I not heard of them?
Started by lead singer, Steven Nathan, in 2008, this New York based rock band is wrapping up their nationwide tour in the coming weeks. Since 2008, they've had membership changes, but one thing has remained constant— they know how to rock! Sharing the stage with Steven are Steve Gregoire (lead guitar), Adam Root (bass), and Angelo Modica (drums).
I was fortunate enough to catch these guys in Memphis, Tenn. on June 10, 2014 at Hi-Tone Café. I arrived at the venue early and spent quite a bit of time getting to know the guys as they were relaxing and setting up for their show. We shared some good laughs as they told me stories about how they arrived in Memphis a couple days before the show and sharing their experiences in North Memphis. If you're not familiar with North Memphis, let me just tell you that it's not a place where you simply hang out, especially after dark. They decided to take in a movie one night (at least some of the guys did while the others waited in the bus). They were approached by an MPD officer who asked them why they were hanging out there and informed them that he (the officer) was leaving the lot at 11:30 p.m. and suggested they do the same. What have they gotten themselves into?
The show began at about 9:30 p.m. This is not a review, necessarily, of the venue. However, I must tell you that Hi-Tone Café is not in the best of neighborhoods and frankly, the inside is not a lot better. The best description I can think of is "dive bar." I also have to say, some of the best times I have had are at places that I'd call a "dive bar" and this one is no different. The acoustics in this place are absolutely incredible and the staff was top notch! Now, to the band …
From the first lick of the guitar from Steve Gregoire, I knew these guys were serious. Coupled with the bass line put down by Adam Root and rhythm of Angelo Modica on the drums, Man On Earth came to life. They initially played for a few minutes as if they were there as part of an impromptu jam session. Then he took the mic. He, of course, is Steven Nathan. Steven's vocals took me to a place where I immediately started to wonder "Why the hell are these guys not on regular rotation on the radio?" Seriously. The sound these guys put out is stellar on all levels. Then you add the mild mannered Steve Gregoire mad guitar skills, mix in some bass from Adam Root and the animation of Angelo Modica killing the skins at the back of the stage… that's a recipe I'd take to the bank every day. The energy emitted from the entire group is contagious, to the point, as you are listening to them, you find yourself moving to the music whether you know it or not. I found myself standing in awe watching them play as my ears were being fondled by the sound. At one point, Steven reminded me that I had a camera and invited me on stage to get any shot I wanted. Oh yeah. I'm here for another reason …
Again, wondering why I had not heard of them, and furthermore, why have I not heard them on the radio yet, I started to do some research. These guys are no strangers in the business. Not even close. They've toured or opened for acts like Kid Rock, Halestorm, Perry Farrel, and Creed to name just a few. They've also had their music featured on NBC for the Winter Olympics, and the NHL hockey team The Islanders play "All We Want" at their home games. The list goes on and on. At the conclusion of my research, I am still unsure why Man On Earth is not on regular rotation on every rock station across the country.
Their set included tracks from their most recent self-titled album "Man On Earth" including: If Not Now Then When, On Our Way, Bombs Around Me, Bang Bang Bitch, We Are The Dreamers, and others.
I'll close this review by simply saying … If Man On Earth comes to your area and you make no attempt to go see them, we cannot be friends!
LIVE! | Man On Earth Concert Photo Gallery