by Deb Rao
– Senior Columnist —
June 13th, 2014 at Vamp'd in Las Vegas —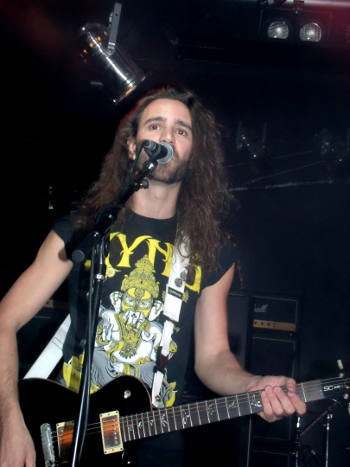 Australia's latest export Ragdoll wrapped up their North American Tour in Las Vegas at Vamp'd on Friday 13. Although, Friday The 13th is suppose to be a bad luck day that old myth did not stand true tonight. The end of tour party blowout was a huge success for Ragdoll. Ragdoll hit the stage at 11:20 p.m. for a riveting 30-minute set. The band kicked the set with "Tell Me." Ragdoll performed a lot of songs from their latest release Ragdoll Rewound.
Ragdoll have a bluesy AC/DC vibe. Lead singer Ryan Rafferty who performed the entire set barefoot reminds me a lot of Russell Brand. His raspy blues voice is the perfect mix for the band. It didn't take the audience long to join the party up in front of the stage. The band has a hypnotizing vibe that drags you in.
Highlight of the set was "Here Today." This song is so catchy and found the audience singing right along. Guitarist Leon Todd is a bundle of energy onstage. His chord changes and driving hard rock riffs were infectious to watch. Leon reminds me of a young Angus Young. When I asked Leon if the band was influenced by AC/DC he responded, "In Australia, AC/DC is to rock what Elvis is to Rock in the U.S."
The band also paid tribute to the late Ronnie James Dio on "Holy Diver." Another highlight of the set was "Rewind Your Mind." This song has some nice guitar changes and the lyrics speak to the heart. The band ended the set with "All I Want." I found myself wanting to hear more. It is not very often that a band captures the attention in a new vibrant way such as Ragdoll. Be sure to check out our interview with Leon Todd right here at Hardrock Haven. We are always the first to discover the latest band making waves in the music industry. Special thank you to Leon Todd for making this review possible.
Set List:
Tell Me
Playing God
Here Today
Astray
Holy Diver
Break You
Rewind Your Mind
All I Want
Visit the band online: www.facebook.com/ragdollrock