LIVE! | Six Days Til Sunday
by Anabel Dflux
– Senior Photojournalist —
June 21st, 2014 at the Whisky a Go Go in Hollywood, CA. —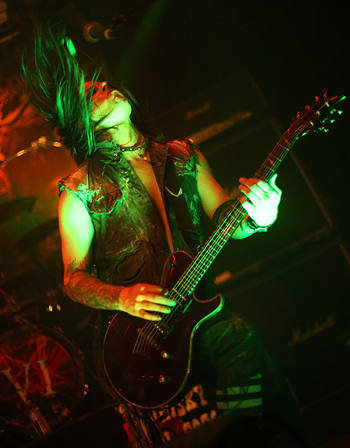 Los Angeles natives Six Days Til Sunday held the Whisky a Go Go hostage to their rock 'n' roll endeavors this past Saturday night. Playing songs off of their album Predetermined, the crowd goers sang and pranced for these up and coming musical deities. With energy, flare, and passion, each individual member reminded Hollywood what real music is all about. Although this was only their second show as a collective, the band mates are no strangers to the stage. A band comprised of musicians who have spent their lives in various known bands, these lads are experts in keeping the crowd entertained. The lighting was also worth mentioning- rather than performing in the moody dark, Six Days Til Sunday chose to be well-lit with a variety of flickering illuminations and colors.
"Disease" opened the show, and definitely set the mood for the evening. Front man Starlin Cross enjoyed interacting with the music enthusiasts in the crowd, often coming down to their level and singing directly to each person. Bassist Malice rocked his side of the stage, rocking with an immense zeal. There was some serious hair flipping action going on there! Guitarist Eric Griffin and his infamous facial expressions, appeared to be having the time of his life with that guitar- often coming up on the platform to show it off. Drummer Devlin 9 with his impressive drum kit, clearly loves his instrument, it was very apparent in his performance!
This is a band you shouldn't miss- catch em' now and watch these lads rise to fame.
Members:
Starlin Cross – Vocals and Guitars
Devlin 9 – Drums
Eric Griffin – Lead Guitar
Malice D'Priest – Bass
LIVE! | Six Days Til Sunday Concert Photo Gallery
Connect with Six Days Til Sunday here:
https://www.facebook.com/sixdaystilsunday2014