M!ss Crazy | Resurrection Hard Rock
by Derric Miller
– Managing Editor —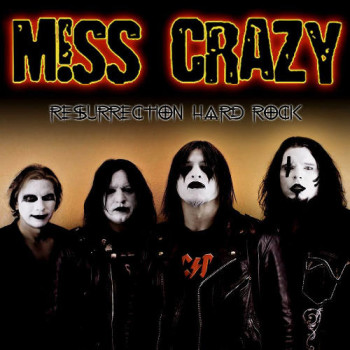 Having released an album of new music in 2013, Grip, M!ss Crazy wasted no time in churning out another blazing and brazen gem of '80s flavored Hard Rock/Metal called Resurrection Hard Rock. If for some reason you haven't checked out these guys yet, think if old school Def Leppard, Cinderella and then some modern guitarist with fanatically fast riffs all wrote an album together. To be fair, M!ss Crazy, when heavy, are mountains heavier than anything Def Leppard or Cinderella ever wrote. But they can play that sort of pop Hair Metal and then on the next song, club you with a massive riff like on "Fire."
They used the word "Resurrection" on purpose in the title, and if any band can bring this kind of music close to its heyday, it's M!ss Crazy.
"Fire" is actually the opening track but it's also the heaviest. Right from the get go you hear the unique vocals of Marcus Allen Christopher, a shredding sort of Brian Johnson/Tom Keifer mix that also can get syrupy and smooth when he wants. It's a freakish range of vocal styles this guy wields. The bridge sounds like a pop Metal anthem and the chorus is a raging screamfest. Just a kick ass way to start Resurrection Hard Rock.
You can see the diverse writing of the band just from track one to two. "She Needs My Love" is a grinding, melodic composition with most of the edge taken off the lead vocals. It's what a hit song used to sound like on the radio.
They merge the two styles on the third track, "Dying," which is both heavy yet catchy. (They also have a new video out for it if you want to check it on the label website below.) This churning song offers up the longing sentiment of "I know what I feel and I know what I want. The feeling is you and the feeling is need!" It's a cool, updated version of an '80s Hard Rock anthem.
Holy Led Zeppelin riffs/vocals! Welcome to "I Want Love," a song that begins with a vintage guitar and vocal sound really close to Led Zeppelin. After the opening few lines, the song opens up, becomes infinitely heavier, and just the Zep rhythms remain. Was it mentioned that this band is diverse? (This song was originally featured on the singer's solo album Hard Rock 101.)
Like all good '80s-ish album, there needs to be a ballad, and here it's "Moon Child," also originally on Hard Rock 101. An acoustic composition, its soft touch and deft vocal delivery is far off the beaten path of what you heard before. This does have a Zeppelin-like feel to it too, meaning it's timeless.
When you compare "Fire" to "Hello," you almost wonder—is this the same band? "Fire" is so heavy and heated, and "Hello" is a smooth, happy pop song.
The song that might resonate with most listeners is probably "I'm Sorry December." Yes, it has a quirky title, which helps, but there's a Mick Jones-like Foreigner riff that carries the song along. The chorus, "I'm sorry, I never … I'm sorry, December. I never meant to let you down," is just a haunting, openly apologetic song about loss, betrayal or whatever hits home to you.
You can't but help think of Ozzy when you hear "Hiding from the Ghost." Christopher puts his shrapnel-ridden high vocals away and brings out a throaty, cleaner style close to Ozzy. It's almost like they wrote a song to say "We love you Ozzy" and well, any music fan should. The solo here goes along with the vibe. It's the longest one on the album ends with the tapping of someone like Jake E. Lee made so popular when he played with Ozzy.
The album closes with an updated version of "Knowing Me," which was on last year's Grip release.
M!ss Crazy is obviously unapologetic about where they came from and what they love. It's Hard Rock, all day, all night, all booze-induced coma. And the cool thing about M!ss Crazy is that they don't focus on the "themes" of '80s music, which is basically what made Steel Panther who they are today. M!ss Crazy focuses on the songs, the musicality, and the fun that made that genre so great decades ago. Will they go all the way to completely resurrecting Hard Rock? Who knows, but thanks to the band for trying …
Genre: Hard Rock
Band:
Markus Allen Christopher: Guitar, Lead Vocals
Eric Morrison : Lead Guitar, Acoustic Guitar
Jeff Jones: Bass, Guitar
Alan Perrault: Drums
Track Listing:
1.) Fire
2.) She Needs My Love
3.) Dying
4.) I Want Love
5.) Moon Child
6.) Gonna Have A Good Time
7.) I'm On My Knees
8.) Hello
9.) I'm Sorry December
10.) I'll Follow You
11.) My Everything
12.) Hiding From The Ghost
13.) Knowing Me 2014
Label: M!ss Crazy Records
Website: http://www.misscrazyrecords.com/
Hardrock Haven rating: 8.4/10