Seether | Isolate and Medicate
by Matt Karpe
– Senior Columnist —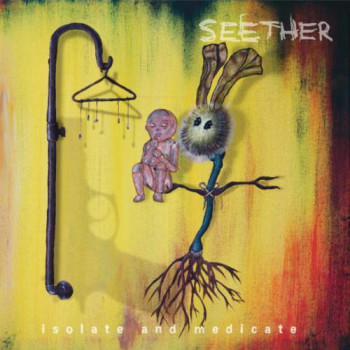 South Africa's finest rock band return with their sixth studio album Isolate and Medicate, with just under 40 minutes of trademark post-grunge anthems.
Seether have always been masters at writing gloomy angst ridden songs with catchy radio friendly choruses, and this album is no different.
2011 release Holding Onto Strings Better Left to Fray was slightly overdrawn and at times became a bit of a tiring listen, but the ten tracks here flow nicely and demand your full attention.
"See You At the Bottom" is a moody number with some excellent thrashing drums and hard guitar riffing. Vocalist Shaun Morgan has often drawn comparisons to the genius that is Kurt Cobain, but Morgan's storytelling of lost love and feelings of inferiority has always been something that sucks in the listener. It is part of Seether's charm, and this opening song is just the very start of things to come.
"Same Damn Life" has a slight garage rock sound before a brilliant sing-a-long chorus kicks in. "Suffer It All" is another prime example of the bands talent at writing songs that can dominate the radio airwaves. The heavy verses pound the ear drums before the chorus tones down, but nonetheless, you can't help but nod along as the energy exudes.
There are a lot of classics in the Seether back catalog, but there are two songs on Isolate and Medicate that may have just eclipsed everything that came before. "Words Are Weapons" starts with a haunting intro before Morgan's heartbreaking lyrics take center stage with such delicate intricacy. The heavy drumming and grungy guitar rhythms add to the drama and the chorus is sensational. Morgan screams "All I really want is something beautiful to say," and it's something that he isn't often able to do, but that is why Seether are good at tugging at people's emotions.
The second show stealer is "Nobody Praying For Me," a dark and emotional roller-coaster with a good use of backing vocals that echo Morgan's words. It's a perfect hard rock song as the verses build up to an addictively melodic chorus.
Other honorable mentions go to the metallic "My Disaster," the raucous "Keep the Dogs At Bay" and an experimental ballad of sorts in the form of "Crash."
Isolate and Medicate finds Seether at their very best. They have never been a one in a million, different to anyone else type of band, but in a very overcrowded and sometimes stagnant rock genre, this trio are definitely one of the best at what they do.
There will also be a deluxe release with four extra songs, and if they are as strong as the 10 tracks on the standard issue, then Isolate and Medicate could be a contender for the best album of the year.
Genre: Post-Grunge, Hard Rock, Alternative Metal
Band Members:
Shaun Morgan- Vocals, Guitar
Dale Stewart- Bass, Backing Vocals
John Humphrey- Drums
Track Listing:
1. See You At the Bottom
2. Same Damn Life
3. Words As Weapons
4. My Disaster
5. Crash
6. Suffer It All
7. Watch Me Drown
8. Nobody Praying For Me
9. Keep the Dogs At Bay
10. Save Today
Record Label: Bicycle Music/Concord Music Group
Website: www.seether.com
Hardrock Haven Rating: 9/10