Shakra | 33 – The Best of Shakra
by Justin Gaines
– Senior Columnist/News Editor —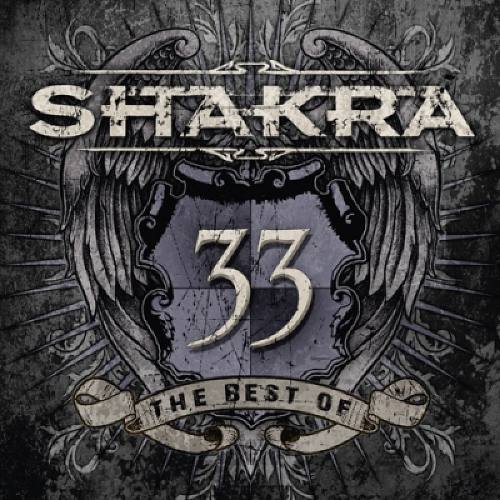 After nine studio albums over the course of a nearly two-decade career, it makes sense for Swiss melodic hard rockers Shakra to release a "best of" collection, and like everything the band touches, they do it with style. 33 – The Best of Shakra features (you guessed it) 33 songs covering all eras and lineups of the band, and has a few extras for the long time Shakra fans as well.
33 touches on all of Shakra's studio albums, and even covers their live releases. The songs are presented in mostly reverse chronological order, so you'll hear the songs with John Prakesh on vocals first, then the Mark Fox material, and finally the older Pete Wiedmer tracks. This reverse progression makes for an interesting listening experience. Instead of tracking their evolution as a band, you go backwards, starting with the more metallic material and moving towards the more Gotthard-sounding melodic rock of the early Shakra discs. There are no real surprises, though a couple of the songs from 2005's Fall have been newly remixed and they've substituted live versions of a few of the early songs. This collection also features three brand new recordings, so even those who already own the Shakra discography will have a reason to pick up 33, or at least download (legaly, of course) the new tracks.
The sound quality quite good throughout the collection, so it's obvious some tweaking was done to the older material to have it sound as good as the more recent tracks. Visually, this is a nicely put-together set as well. 33 comes in a gatefold digipack and the booklet features vintage photos, cover artwork of all the various Shakra releases (in order too!) and even lyrics for the new songs.
There's a lot to love about 33 – The Best of Shakra. For newcomers to the band, or those who simply aren't willing to commit to buying nine separate studio albums, many of which are only available as expensive imports, 33 is the perfect way to get to know one of the best melodic hard rock bands in the European scene. Between the new tracks and the overall presentation, 33 is a worthwhile purchase for long time Shakra fans as well.
Genre: Melodic Rock, Melodic Hard Rock
Lineup:
Thom Blumer (g)
Thomas Muster (g)
Roger Tanner (d)
John Prakesh (v, 2009-2014)
Mark Fox (v, 2002-2009)
Pete Wiedmer (v, 1995-2001)
Dominik Pfister (b, 2008-2014)
Oli Linder (b, 2001-2008)
Roger Badertscher (b, 1995-2000)
Track Listing:
Disc 1
1. Back on Track
2. Live For Today
3. The Beacon
4. For the Rest of My Days
5. Stronger Than Ever
6. Yesterday's Gone
7. Life Is Now
8. Dream of Mankind
9. Save You From Yourself
10. When I See You
11. True B You
12. Dear Enemy
13. Ashes To Ashes
14. Why
15. The Journey
16. Playing With Fire
17. Love Will Find a Way
Disc 2
1. The One
2. Inferno
3. Walk On Water
4. Chains of Temptation
5. Take Me Now
6. Now or Never
7. Rising High
8. I Will Be There
9. Too Good For Me
10. Trapped
11. Why Don't You Call Me
12. She's My Pride
13. Stranger
14. Nothing To Lose
15. Who's Got the Rhythm
16. Hands on the Trigger
Label: AFM Records
Website: www.shakra.ch
Hardrock Haven Rating: 9/10