Sin City Sinners Rock The Cause For Cystic Fibrosis
by Deb Rao
– Senior Columnist —
June 14th, 2014 at Vamp'd in Las Vegas, NV. —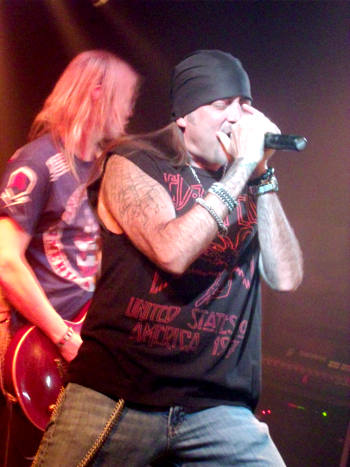 The Las Vegas music community joined together with the Sin City Sinners for a special cause Cystic Fibrosis at Vamp'd on June 14 with a very special all ALL-Star Jam. The top alumni of the Las Vegas Music scene joined the band onstage for a jam that went into the wee hours of the morning.
The Sin City Sinners known for their Charity Work once again rose to the cause! The special event kicked off at 10 p.m. with the Sin City Sinners taking the stage. At 11 p.m. The band was joined by first guest Cian Coey from Meatloaf. Cian lit up the stage with her fiancé, Sin City Sinner Doc Ellis, for an electrifying version of "Highway To Hell." Next up Paul Shortino sung accapella on "Smile."
It didn't take long for the long stream of patrons that gathered throughout the evening to enjoy the blues with special guest star and owner of Vamp'd Danny Koker to hit the stage with a Pat Travers tune. Danny is also the star of the hit TV Show Counting Cars. It was great to see him perform. His band Count's 77 also has a new album out.
The night inspired many jams. Including special guest star Blas Elias of Blue Man Group on drums, Scott Griffin of LA Guns on bass, and Fiver Finger Death Punch bassist Chris Kael on vocals to light up the stage with their explosive performance on a Billy Idol hit. Next up Scotty sang the Joan Jett hit "I Love Rock 'n' Roll." Tonight bassist and drummers became singers and vice versa. The band also performed a song with Brides of Destruction and Ace Frehley's musician Scott Coogan.
The evening sparked many raffles including a pair of tickets to the Volbeat and Five Finger Death Punch show at the Joint in October. Vinnie Paul of Hellyeah also contributed to the raffle. The jam kept on going with singer Frank Dimino of Angel and Vinyl Tattoo on the Led Zeppelin hit "Rock And Roll." The theme of the night was Led Zeppelin, as many songs from that era were performed.
The evening ended with a jam from Jeff Tortora and Chris Brady from Hellyeah. It was so heartwarming to see the Las Vegas music community join together for Cystic Fibrosis. A cause very dear to the Sin City Sinners.