by Justin Gaines
– Senior Columnist/News Editor —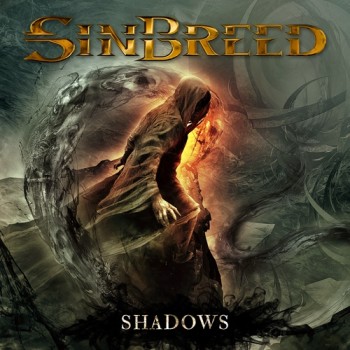 German power metal band Sinbreed is back after a four-year absence with their second album, titled Shadows. The band, of course, features a pair of Blind Guardian members (guitarist Marcus Siepen and drummer Frederik Ehmke) as well as Beyond the Bridge vocalist (one of them, anyway) Herbie Langhans. It's founding guitarist Flo Laurin who really takes the reins on Shadows though, doing a major share of the songwriting as well as producing the album.
As they did with their 2010 debut When Worlds Collide, Sinbreed takes a heavy approach to the German power metal sound on Shadows. Headbanging rhythms and almost thrash-worthy riffs are the order of the day, bringing to mind those early, high-speed Blind Guardian albums as well as recent work by Savage Circus and Persuader. The band still maintains a melodic side, but Shadows is a fierce album overall, and is made even more so by Langhans's rough yet powerful vocals. He actually sounds a bit like Accept's Mark Tornillo. Sinbreed gets right to the point here. Shadows doesn't have any instrumental intros, epic narration or multi-part symphonic suites. You get ten blistering heavy power metal songs, of which "Far Too Long," "Black Death" and the title track are standouts.
Sinbreed isn't really giving us anything new here, but they don't necessarily need to. In a genre that has gone a bit too far into hyper-melodic, sing-song territory, it's always good to see a band like Sinbreed focusing on the heavy side of things. If you prefer your power metal on the heavier side – think Savage Circus, Mystic Prophecy, Persuader, Brainstorm and Iron Savior, this is a band you'll want to discover. Shadows should also appeal to fans of traditional metal bands like Accept, Saxon and Judas Priest. It's just a good, solid, headbanging heavy metal album.
Genre: Power Metal
Lineup:
Herbie Langhans (v)
Flo Laurin (g)
Marcus Siepen (g)
Alexander Schulz (b)
Frederik Ehmke (d)
Track Listing:
Bleed
Shadows
Call To Arms
Reborn
Leaving the Road
Far Too Long
Black Death
Standing Tall
London Moon
Broken Wings
Label: AFM Records
Website: www.sinbreed.com
Hardrock Haven Rating: 7.5/10