Sinning and Winning in Vegas, Hardrock Haven Style
by Derric Miller
– Managing Editor —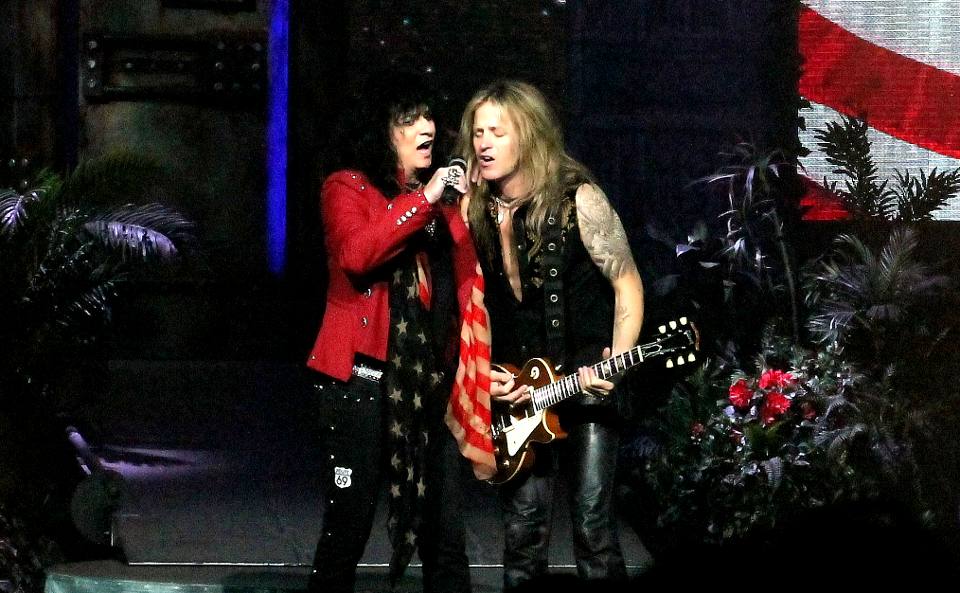 Me and four of my best friends went on vacation to Las Vegas, and on May 30 I had a chance to hang out with the one and only Ron Keel, his wife Renee and go to a concert called "Raiding the Rock Vault." If you are not aware of that all-star tribute show, learn more about it here: http://www.raidingtherockvault.com/.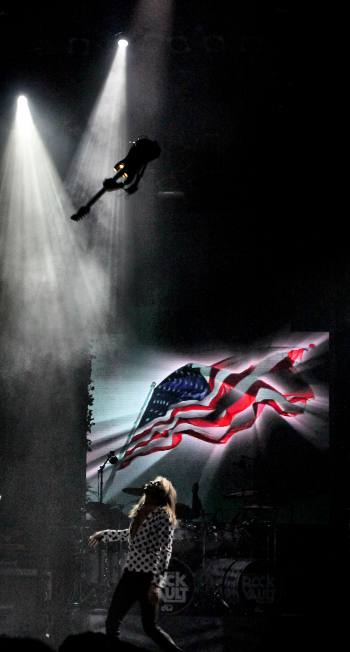 I didn't only get to see Paul Shortino, Doug Aldrich, Jay Schellen, Mark Boals, Andrew Freeman, Robin McAuley, Howard Leese and crew on stage … thanks to Keel, me and four of my friends went backstage before the show and I did a shot with Shortino and Keel. I got to shake Aldrich's hand and say "When I tell John from Hardrock Haven I got to talk to you he's gonna knife me out of sheer jealousy." Aldrich laughed and said "He better not." I guess I was thinking "Why be cool when I can be Derric?"
If you've never met Paul Shortino, he has an affable albeit quirky air about him; he really seemed to be the master of ceremonies. Maybe "eccentric" can partially define him, but "cool as hell" needs to be part of that description as well. None of these rockers had any reason to chat us up or let us bother them; our biggest claim to fame was "We're with Keel." (OK, Hardrock Haven did come up and most of them had at least heard of the site, but still … )
After hanging with the band for a bit in the dressing room, we then went to The Green Room for a VIP meet and greet. Keep in mind, the others in that room PAID for that access—we got in because of Keel. I was used to going backstage and hanging with bands from my years at Hardrock Haven, but for some of the other guys, this was a first-time experience.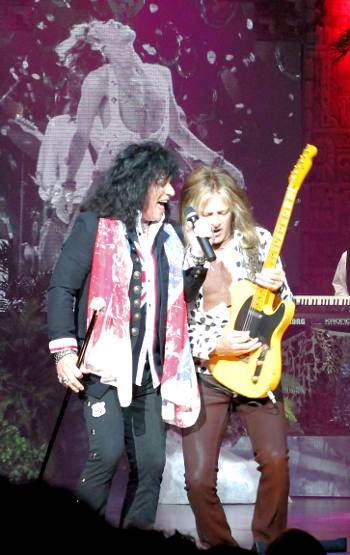 Thanks to liquid courage, I had no problem walking up to Mark Boals, reaching out my hand and introducing myself. Having never met him, I had no idea what to expect. I said something along the lines of "I can't believe you can hit those notes," and he gave a self-effacing reply. While on stage, each and every musician played the "rock star" to the hilt, but in the meet and greet, they were all downplaying their talent. But the talent was there …
While this won't be a review of the show—you can go here to read reviews: http://www.raidingtherockvault.com/reviews-and-testimonials/ —I will tell you a little about it. In case you didn't know, Vegas is dry. Like, desert-dry. Also, the motto in Vegas should be "if you sin you win," because you can gamble, drink AND smoke all at the same time at casinos. So for a vocalist, you have to take care of your voice in this climate because the environment is against your vocal chords. (Mine blew out after singing to just a couple parts of a few songs; I sounded like a 90-year-old after the show.) So when Shortino nailed the high notes at the end of Aerosmith's "Dream On" with seemingly no effort, it made me appreciate that guy's talent. Singing in Vegas just can't be easy on these guys … but they all sounded perfect anyway.
The guitar duo of Aldrich and Leese was an event in and of itself. While known for his more bombastic playing in Dio and Whitesnake, Aldrich mesmerized playing songs from classic bands like Led Zeppelin, The Who, and The Rolling Stones. For guitar enthusiasts, watching Aldrich and Leese play off each other, share solos and celebrate the foundation of what made rock and roll today was breathtaking.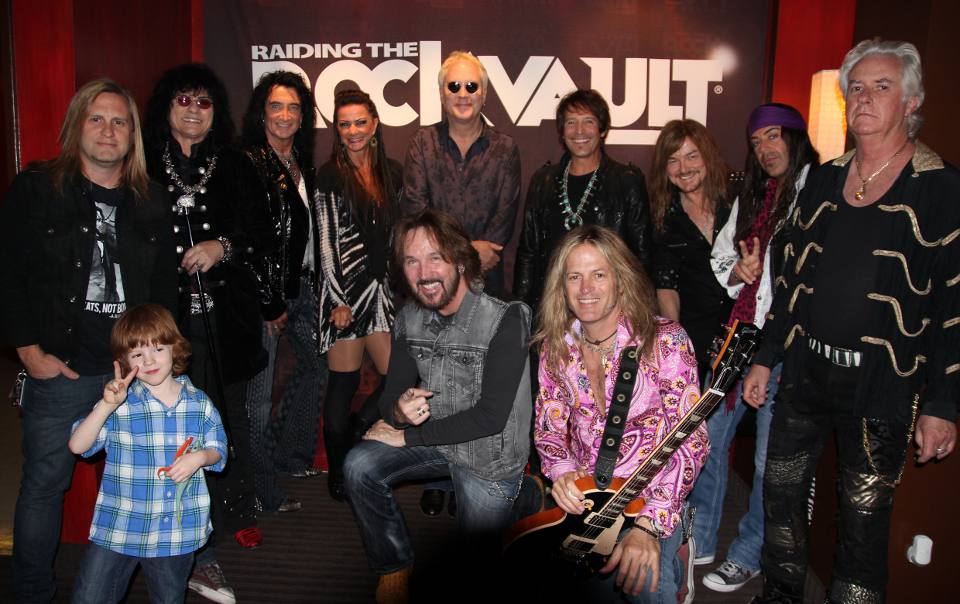 As a big MSG fan, the McAuley Schenker years, finally hearing McAuley live was about damn time. No, I didn't get to hear "Anytime," "Never Ending Nightmare" or "When I'm Gone," but it didn't matter. Like Shortino, McAuley was a masterful vocal presence.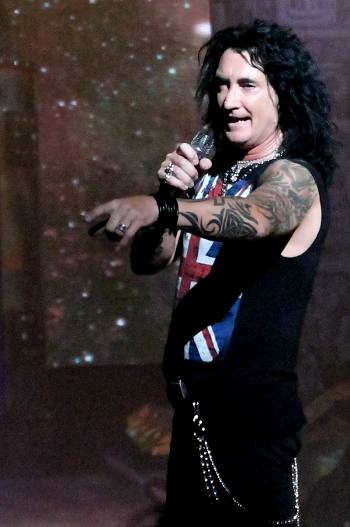 And this just in—Andrew Freeman is a really good singer too. I was a huge fan of the other singers before the concert, so I had expectations that were met and exceeded. To me, Freeman was the wildcard that I was just looking forward to hearing, and while he has a shorter resume than the other vocalists, he fits with the group perfectly.
The one guy I didn't get to talk to and wanted to was Jay Schellen; Hurricane is/was one of my favorite bands. He had a perma-grin on during the show, and pounded with energy while being able to pull off the more intricate drum work of The Who and Zeppelin.
There was one thing wrong with the show, though. Ron Keel wasn't up on stage; he sat in the crowd with my friends and I. That makes zero sense. That's the exact definition of "nonsensical," when you have someone with Keel's hard rock and heavy metal legacy … with his freakin' talent … and he is not up on stage with his contemporaries bringing down the house. Keel is every bit the vocalist as those on stage, and the Keelaholics would say he's even better. Hopefully the powers that be come around and figure out that adding Keel to the show is a much-needed element if they want the show to grow.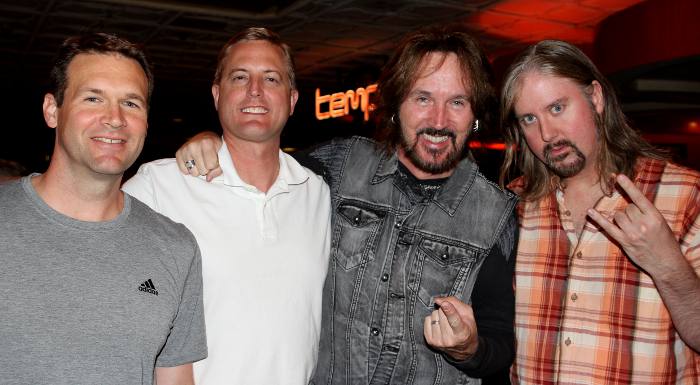 That being said, special thanks to Keel for making our Friday night in Vegas one of the most memorable nights we've ever had in the City of Sin. You did me and the boys more than a solid, and we owe ya one, Ron …
Photos appear courtesy of Renee Keel.