by Ron Higgins
– Columnist —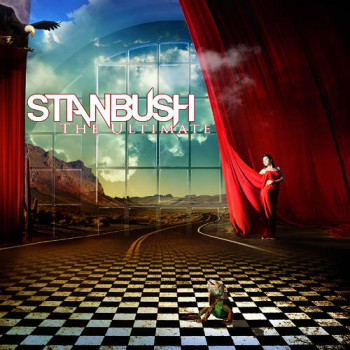 A Stan Bush record is like an episode of "Modern Family"— you can always count on it being good. The Ultimate, his twelfth studio album in over 30 years, is no exception. And to be clear, it's not a greatest hits record but it's certainly filled with some great hits. It's packed with soaring vocals, uplifting lyrics, beautiful melodies, rocking guitars and outstanding keyboards. Basically your typical Stan Bush release; reliable like an old hound dog sitting dutifully at the feet of his master's rocking chair.
For the uninitiated, or someone like Patrick Starr who has been living under a rock for the past three decades, Stan Bush is an Emmy Award winning AOR singer/songwriter who consistently releases high quality, keyboard-heavy, melodic hard rock with a classic '80s sound in a similar vein to legendary artists like Journey, Survivor, Foreigner, and others.
The album kicks off strong with the mid-tempo "Something to Believe." A piano/keyboard intro is followed by Stan's smooth voice which is accentuated nicely by some tasty guitars and a killer chorus. Visions of classic Loverboy hit you immediately. This is followed by the title track, "The Ultimate," which features heavy keyboards, amazing vocals and another ridiculously catchy chorus. Although evoking classic sounds from decades past, it's also reminiscent of newer AOR bands such as Mecca.
Other standout tracks include tracks five, six and 10. The front half of the album is definitely stronger than the back half. Track five, "Stand in the Fire," assaults the listener with an aural attack of furious guitar work and a slamming bass before slowing down to allow Stan's voice to enter the picture. Another easily memorable chorus shines again with plucking guitar notes suggestive of AC/DC's "Thunderstruck". The next track, "Unstoppable" is probably the best song on the album. Musically, it starts with a spacey keyboard intro and is filled with lush harmonies, excellent lead guitar and a chorus that will live with you long after the song ends. Lyrically, it's a very positive, uplifting song, featuring lyrics like "We are unstoppable, an indestructible force." The lyrics could easily be applied to athletics, or Christianity, but the corresponding video showcases the song's patriotic theme, making it a perfect accent to the upcoming Fourth of July holiday in the United States. Track 10, "If I'm Not Lovin' You" is a wonderful ballad. It sounds familiar, but in a good way, and features a brilliant guitar solo that would make Neal Schon proud.
There are several other good ballads on the record too. "Love Again," a tale of a man finding unexpected love, features some nice piano work and another lovely guitar solo, and "The Memory of You" is nice because it has some beautiful acoustic guitar accompaniment. Other songs include, "Heat of the Battle," which has an "Emminence Front"-like keyboard intro followed by some hard rocking guitar and Stan's tremendous voice, and "The Journey," which is a decent song but nothing special.
The final two songs are actually remakes. The first one is "Thunder in Your Heart," This was originally done by John Farnham for the 1986 movie RAD, which, according to IMDB is, "The story of one young man, Cru Jones, who has the intensity and desire to win a BMX race called Helltrack." The movie hasn't exactly lived in the collective consciousness of '80s moviegoers like, say, Fast Times at Ridgemont High or even The Goonies so many people probably aren't familiar with this song. Thanks to modern day technology like YouTube you can jump in your Delorean, kick it up to 88 miles per hour and instantly jump back in time and listen to it. If you do, you'll realize that the new Stan Bush version is nearly identical to the original. The production is certainly better as are the vocals but not much else has changed. And that's a shame because the song isn't really that strong. However, Mr. Bush obviously liked it enough to cover it and it also happens to feature the other video released for this album. The video is somewhat interesting because it's an animated video produced and directed by Randal Ng, featuring cartoons of the original, first generation Transformers.
So why Transformers? Because the song that Stan Bush is probably best known for is "The Touch," which was featured in and became famous for, Transformers: The Movie. Interestingly, the song was re-released in 2009 for Guitar Hero and then remixed in 2013 for the hit video game Transformers: Fall of Cybertron. That's the version included here. It's called "The Touch (Power Mix)". A shorter 2:53 minute video advertisement of it can be found online but the full 4:03 version appears here. Overall, this is probably the most modern sounding track on the album, which can be perceived as either good or bad depending on your perspective.
Overall, this is another solid Stan Bush release. It's not perfect but it's pretty darn good. Diehard Stan Bush fans will obviously love it but so will all lovers of classic '80s sounding melodic rock. So grab some nice comfortable well-worn slippers, ease back in your favorite chair, adjust your earphones and fire up this latest Stan Bush release. You'll enjoy it. And like that old dog, you can count on it.
Genres Hard rock, Pop Rock
Track Listing:
1. Something To Believe
2. The Ultimate
3. Heat Of The Battle
4. Love Again
5. Stand In The Fire
6. Unstoppable
7. Thunder In Your Heart
8. The Journey
9. The Memory Of You
10. If I'm Not Lovin' You
11. The Touch (Power Mix)
Labels: MelodicRock Records (Europe) / LA Records (USA)
Websites:
https://www.facebook.com/stanbushmusic
https://twitter.com/Stan_Bush
http://www.StanBush.com
Hardrock Haven Rating: 8.5/10