Vanishing Point | Distant Is the Sun
by Justin Gaines
– Senior Columnist/News Editor —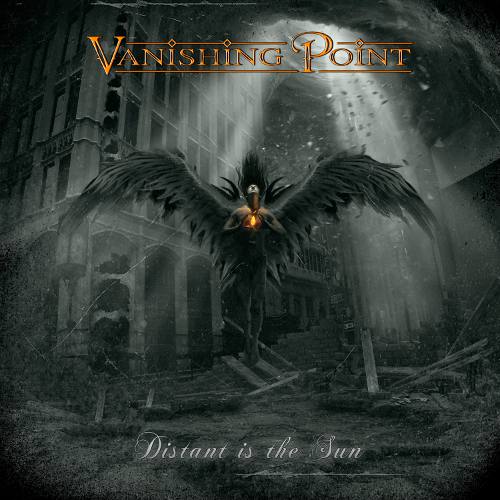 It's been seven long years, but Australian progressive metal band Vanishing Point is finally back with a new studio album, their fifth overall, titled Distant Is the Sun. It's not the first time fans have had to wait several years for a new Vanishing Point album, but it's definitely the longest break between albums. Here's the thing that keeps fans holding on though – it's always worth the wait.
The years since their previous album (2007's excellent The Fourth Season) have seen some changes in the Vanishing Point camp, most notably the addition of Simon Best on drums and James Maier on guitars and the band's signing with the AFM label. What hasn't changed is the chemistry between guitarist Chris Porcianko and vocalist Silvio Massaro, and their ability to write progressive metal songs that perfectly balance technicality with melodic accessibility.
As soon as you clear the opening introductory track, "King of Empty Promises" lets you know right away that Vanishing Point hasn't lost a step in their years away. They've always been one of the best bands in the progressive metal scene (right up there with Vanden Plas and Evergrey) when it comes to making this kind of technical music so catchy and easy to get into. Part of that is Porcianko's melodic guitar work and part is Massaro's soaring vocals, both of which are at the forefront of this album. Distant Is the Sun fits right in with the rest of the Vanishing Point catalog, though there are some differences that you notice after a couple of spins. The arrangements are a bit more complex and the musicianship is a bit more technical this time around. Not so much that it overwhelms the melodic aspect of the songs, but enough that you can see how the band has grown as musicians and songwriters.
While Distant Is the Sun maintains a high quality level throughout, it does have a few songs that are worth highlighting individually, like "When Truth Lies" (the first video released for the album), "Circle of Fire" (which features a guest appearance by Sonata Arctica frontman Tony Kakko) and the stirring and emotional "Let the River Run." Still, the album works best when experienced as a whole, where you can really appreciate the atmosphere that runs throughout the songs.
While long time Vanishing Point fans are going to be the ones rejoicing the loudest over the band's return, Distant Is the Sun is an album that should please a wide array of fans. It's obviously going to satisfy fans of high quality progressive metal, but it's accessible enough that fans of power metal and melodic rock and metal should find plenty to love. With any luck Distant Is the Sun will be the album that finally introduces Vanishing Point to the much wider audience they deserve.
Genre: Progressive Metal
Band:
Silvio Massaro (v)
Chris Porcianko (g)
James Maier (g)
Simon Best (b)
Christian Nativo (d)
Track Listing:
1. Beyond Redemption (Intro)
2. King of Empty Promises
3. Distant Is the Sun
4. When Truth Lies
5. Circle of Fire
6. Let the River Run
7. Denied Deliverance
8. Story of Misery
9. Era Zero
10. Pillars of Sand
11. As December Fades
12. Handful of Hope
13. Walls of Silence
14. April
Label: AFM Records
Website: www.vanishing-point.com/au
Hardrock Haven rating: 9/10