by Deb Rao
– Senior Columnist —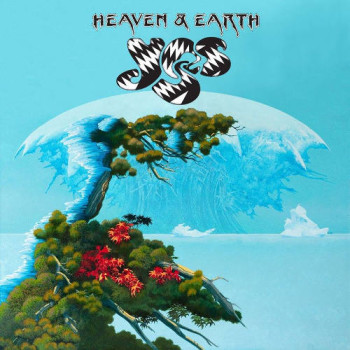 Classic rock band Yes is gearing up for release of Heaven And Earth on July 18 via Frontiers Records. The release inspires the signature symphonic sound of the band. Opening track "Believe Again" infuses the harmonic vocals and carefully crafted lyrics. Next up "The Game" is reminiscent of early Supertramp. This track also features some great harmony vocal work and heartfelt lyrics.
Over the years, Yes has garnered a sound that reflects soaring vocals, huge symphonic work, and spiraling guitars. Heaven And Earth reflects all of this but on a softer level than the Roundabout days. Stand out track "To Ascend" includes the exquisite guitar finger picking of Steve Howe. The lyrics are very deep and transpire memories of early Yes.
The vocals of Jon Davison sound a lot like Jon Anderson. The album also indulges in the blues on track "In A World Of Our Own." Bassist Chris Squire stands out on "It Was All We Knew." Heaven And Earth also follows in the realm of early classic rock Crosby, Stills, Nash and Young with the flow of lyrics and vocal presentation. The album ends with the song "Subway Walls." This song reflects the precision musicianship that has surrounded Yes throughout their entire career. It would have been great to hear lyrics on this song. As reading the graffiti on the subway is always an interesting trek, the band lets the music speak volumes on this musical journey. The album is produced by Roy Thomas Baker. One of greatest classic rock bands of our time, Yes continues their excellence in symphonic rock with Heaven and Earth.
Genre: Classic Rock
Band:
Steve Howe – Guitars and Vocals
Chris Squire – Bass and Vocals
Geoff Downes – Keyboards
Jon Davison – Vocals – Guitars
Alan White on Drums
Track Listing:
Believe Again
The Game
Step Beyond
To Ascend
In A World Of Our Own
Light Of The Ages
It Was All We Knew
Subway Walls
Label: Frontiers Record
Web: www.facebook.com/yestheband
Hardrock Haven Rating: 8/10