Adrenaline Rush | Adrenaline Rush
by Alexandra Mrozowska
– Columnist —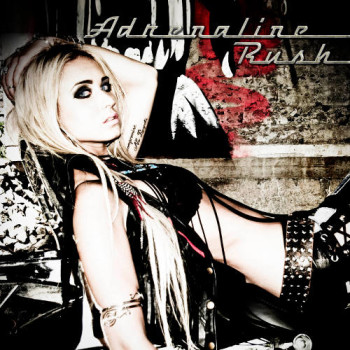 Gone are the days when hard rock was exclusively a boys' thing, women's role within the genre limited only to rolling around on the hood of a Jaguar – at least, it seems so! Although the '80s saw the rise (and fall) of a few notable female-fronted rock bands – think of Femme Fatale or Saraya – now there's more and more groups that follow the formula, the Swedish act Adrenaline Rush being one of them. Recorded under the auspices of Erik Mårtensson (of Eclipse and W.E.T), their self-titled debut album is to be released this year in August via Frontiers Records.
Perhaps the most recognizable member of the band is a frontwoman Tåve Wanning, formerly of pop duo Peaches. While many (mostly male) rock writers will find much pleasure in emblazoning her appearance, it has to be stated the singer has quite a strong voice at her disposal, with manner of singing that somewhat reminds one of Vixen's Janet Gardner. She sounds pretty feisty in the opening "Black N' Blue", a melodic hard rock piece driven by an aggressive, modern guitar riff.
Next are the single "Change" and "Generation Left Behind", both straightforward contemporary rock illustrated with rebellious lyrics belted out by Miss Wanning. A sleaze-infused party anthem "Girls Gone Wild" follows, leaving no doubt that this particular song can – and should – become "Girls Just Want To Have Fun" of the 2010s. Well, at least in rock-oriented circles! It gets a bit slower – and a bit more serious, for a change – in "When We're Gone," a somber mid-tempo featuring some outstanding guitar licks.
The echoes of '80s rock resonate in keyboard laden "Want It All," its well-crafted chorus – tailored for throat-ripping and fist-pumping purposes – being one of the album's highlights. Music-wise, the next track "Too Young To Die" may remind one of bands such as Blue Tears, Brighton Rock or Hot Boy as it has Adrenaline Rush gravitating towards '80s melodic hard rock/AOR again. With "Oh Yeah," one gets a tad of blues and a solid dose of hard rock, the influence of Aerosmith being apparent if not obvious.
Next is "No No No" with its rebellious lyrics against the background of raw guitar riffs, culminating in a breakneck solo. Both the stellar lead guitar work and the structure of the chorus in "Playin' To Win" bring to mind Gary Moore's mid'80s Irish music-infused endeavors – and certainly, it's another of the brightest spots of the entire record. The final "Hit You Like A Rock" is again straightforward and noisy hard rock with some modern touches, perhaps generic but nevertheless enjoyable.
The further Adrenaline Rush goes, the better it gets. The first few tracks may not entirely reveal what's extraordinary about the band, being "just" lightweight hard rock with a bit of modern sleaze/glam metal. However, the best is to come with tinkly AOR-ish keyboards illustrating "Too Young To Die" or the outstanding vocal harmonies in the Aerosmith-esque "Oh Yeah." In its entirety, the album is guaranteed to provide the titled "adrenaline rush" to every listener who's got '80s hard rock running through their veins. Give it a spin and you'll find yourself able to go off coffee for the next month – much recommended!
Genre: Melodic Rock, Hard Rock
Band:
Tave Wanning – lead vocals
Ludvig Turner – lead guitar, vocals
Alexander Hagman – guitar, vocals
Soufian Ma'Aoui – bass, vocals
Marcus Johansson – drums
Track List:
1. Black N' Blue
2. Change
3. Generation Left Behind
4. Girls Gone Wild
5. When We're Gone
6. Want It All
7. Too Young To Die
8. Oh Yeah
9. No No No
10. Playin' To Win
11. Hit You Like A Rock
Label: Frontiers Records
Website:
http://www.adrenalinerush.se
https://www.facebook.com/adrenalinerushofficial/info
Hardrock Haven rating: 8/10