Elvenking | The Pagan Manifesto
by Justin Gaines
– Senior Columnist/News Editor —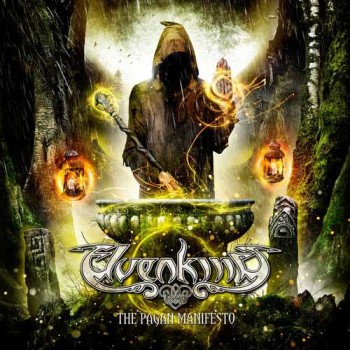 It's always good to see a band that has lost their way return to making great albums. After a pair of disappointing releases (2008's Two Tragedy Poets and 2010's Red Silent Tides), Italian power/folk metal band Elvenking turned things around with 2012's impressive Era. Now they're back with a new album, their eighth overall, titled The Pagan Manifesto. As with Era, The Pagan Manifesto features a handful of guest performers, most notably Amanda Somerville (Kiske-Somerville) and Folkstone's Maurizio Cardullo, who provides the whistles and bagpipes that play such a big part of the folk sound on the album.
Elvenking plays it fairly safe here, more or less picking up where Era left off. Fans wanted a return to the classic Heathenreel sound of super-catchy power metal with even catchier folk melodies. They got that on Era and they get it again on The Pagan Manifesto. If it's safe, at least it's also totally enjoyable. You're going to whistle these melodies and sing along, and these songs are going to stay with you long after the disc stops spinning. Even without the folk elements this would be a very solid power metal album, but when you add in Lethian's violin, the backing choirs, Cardullo's instrumentation and the occasional growls, it becomes something even more memorable.
"Elvenlegions" is the first song and video from The Pagan Manifesto, and it's one of the album's better tracks. The quick and utterly infectious "Pagan Revolution" is another highlight. The epics "King of the Elves" (which features Somerville's vocals alongside Damna) and "Witches Gather" are also great examples of the band's unique brand of storytelling.
Say what you will about Elvenking's formula, but it's a formula that works. The Pagan Manifesto is another terrific folk-infused power metal album from one of the pioneering bands in the genre, and is bound to satisfy their "Elvenlegions" of fans. It's also a completely accessible album for newcomers (if you're unfamiliar with the band, think Gloryhammer meets Mago de Oz) looking to see what Elvenking is all about.
Genre: Folk Metal, Power Metal
Lineup:
Damna (v)
Aydan (g)
Rafahel (g)
Jakob (b)
Symohn (d)
Lethien (violin)
Track Listing:
1. The Manifesto
2. King of the Elves
3. Elvenlegions
4. The Druid Ritual of Oak
5. Moonbeam Stone Circle
6. The Solitaire
7. Towards the Shores
8. Pagan Revolution
9. Grandier's Funeral Pyre
10. Twilight of Magic
11. Black Roses for the Wicked One
12. Witches Gather
Label: AFM Records
Website: www.elvenking.net
Hardrock Haven Rating: 8.75/10