EnkElination | Tears Of Lust
by Joe Mis
– Senior Columnist —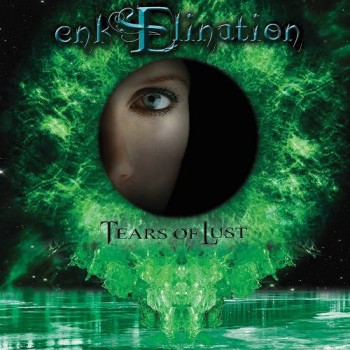 The band name enkElination is a play on words and perhaps a bit of a gimmick, but that's where the silliness ends. "Enkeli" means "angel" in Finnish, and the lead singer is named Elina – but this band needs no gimmicks to get by. Fans of operatic-symphonic-metal have a new voice to follow, and EnkElination's new release Tears of Lust is a very solid debut album.
The band was founded in 2011 by classically trained opera singer Elina Siirala, who moved from her native Finland to London in 2008. She joined forces with guitarist Shadow Venger, bassist Alasdair McNeill, and later drummer Benjamin Tarten to bring the band into its current configuration. After releasing an EP in 2012, the band is ready to reveal their full length debut in July 2014. Tears Of Lust is a very strong release, filled with great melodies and solid performances. While the band does not push the envelope very far in any direction, they have a fresh tone and enthusiastic approach.
"Tears of Lust" opens the release, and you are immediately struck by the clarity of Elina's vocals. All too many times operatic vocalists are tough to understand, but not here – Elina's voice is crisp and clear, not to mention pleasant and soothing. "Higher Ground" is a bit darker and heavier allowing the solid rhythm guitar work of Shadow Venger to take over, backed by excellent coordination between bass and drums. "Never Ending" is a very progressive track built primarily around vocals and bass, with nicely done keyboards adding a good bit of brightness. The haunting "Lullaby" adds more keyboards and a simple but effective guitar solo. Elina's vocal work here is truly amazing – she explores pretty much her entire range, demonstrating clarity throughout. "Insane" cranks it up a bit with a galloping bass / drum line and interesting guitar hooks.
"What Have You Become" has a wonderful flow to the chorus, and the entire track is driven by strong bass and drums. "Reborn" is a bit darker and places more emphasis on the operatic side of the coin, and Venger's guitar work holds up well through a number of progressive style tempo changes. "Chimeras" is a higher energy metal track that allows Elina's vocals to float over a gritty, chugging rhythm line with a wonderful sense of contrast. "Changeling" is one of the more interesting tracks on the release, coming across as much more of a commercial/AOR rocker, maybe with hints of Broadway thrown in – definitely a "big" number with a great beat and slick guitar work. "Abyss" is another dark mid-tempo track with interesting timing changes and chord choices. The album closes out with "Last Time Together," the required tear-jerker ballad – a bit formulaic in style, but superbly delivered
Overall, Tears Of Lust is a superb debut release, and EnkElination clearly marks itself as a band to watch. Elina's vocals are obviously the centerpiece, but the rest of the band lives up to the high standard she sets. The album is well recorded, presenting the band in the best possible light while emphasizing Elina's vocal abilities. Well crafted songs and well written lyrics are only highlighted by the slick and clean performances. The only thing missing is that ONE track that allows the band to truly cut loose and turn it up to 11. This album will appeal to fans of operatic, female-fronted, and symphonic metal. Definitely recommended!
Genre: Operatic, Progressive Metal
Band:
Elina Siirala (vocals)
Shadow Venger (guitar)
Alasdair McNeill (bass)
Benjamin Tarten (drums)
Track Listing:
1. Tears of Lust
2. Higher Ground
3. Never Ending
4. Lullaby
5. Insane
6. What Have You Become
7. Reborn
8. Chimeras
9. Changeling
10. Abyss
11. Last Time Together
Website: http://www.enkelination.com/
Hardrock Haven rating: 9/10