Forever Still | Breaking Free
by Joe Mis
– Senior Columnist —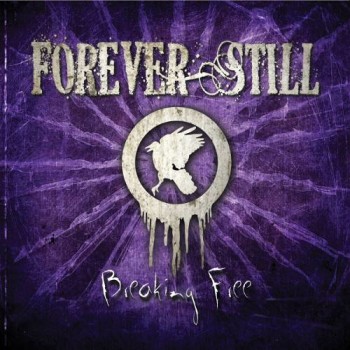 Breaking Free is the debut EP from Copenhagen's Forever Still. While not groundbreaking or evolutionary, this four track release is a shining example of the female-fronted Gothic Rock genre.
Forever Still has a history going back to 2009 when bassist-sound engineer Mikkel Haastrup joined forces with vocalist Maja Schønning to form the creative core of the band, later adding drummer Chad T. Charlton and guitarist Carsten Christensen to flesh out the lineup. The quartet is in fine tune musically, working together well throughout.
Maja Schønning has a fine voice – strong, crisp, and clear. Her range is fairly wide and she uses all of it, even occasionally dropping into a near-death-metal roar (which she does not abuse). She is ably backed by the very strong bass and drum rhythm section of Mikkel Haastrup and Chad Charlton. Carsten Christensen is a strong rhythm guitarist, but as is the sad case in many modern rock albums he does not get to really show his chops as a soloist. Keyboards and synths are present, but not overwhelming – and the band keeps their arrangements fairly simple and clean without heading all the way into progressive or symphonic arenas.
The strength of the band seems to be its overriding sense of melody. Schønning's vocal lines are very fluid, moving nicely over the rhythm lines. She also does a very credible job on harmony and backing vocals. The guitars, bass, drums, and keyboards are all major players, but no one instrument in particular dominates the music resulting in a very balanced sound overall. The release is well mixed and recorded, making it a pleasant listen.
"The Key" is a strong mid-tempo rocker, nicely done from a lyric and vocal point of view, giving Schønning the chance to display her full range. Rolling bass is the driving force of "The Last Day," a quick up tempo track built fully around the rhythm line. "Towards The Edge" is more of a ballad with a simple flow to it. Schønning's voice here is at its most relaxed and natural, and the rest of the band seems to be very comfortable in the slower groove set by this mellower song. The live acoustic version of "The Last Day" is a truly spectacular vocal / piano piece, but unfortunately Schønning does push a bit beyond her range and oversings slightly during the closing bars.
The one overriding flaw on Breaking Free is the fact that the band only presents 3 different songs (the final track being an acoustic version of another). As a result it is tough to truly gauge the depth of the band's songwriting and performing talent. The tracks that Forever Still presents are very good, but fairly run-of-the-mill for gothic metal/rock bands.
Forever Still is definitely a band to watch – all the pieces seem to be present, but will they push to assemble them into something extraordinary, or will they choose to build a cookie-cutter gothic row house? Only time will tell. For now, consider Breaking Free to be a decent debut that should appeal to fans of the gothic or female-fronted genres, and one that will hopefully lead to bigger and better …
Genre: Gothic Rock, Metal
Band:
Maja Schønning (vocals)
Mikkel Haastrup (bass, keys)
Chad T. Charlton (drums)
Carsten Christensen (guitars)
Track Listing:
1. The Key
2. The Last Day
3. Towards The Edge
4. The Last Day (Live Acoustic)
Label: Independent
Website: http://foreverstill.dk/
Hardrock Haven rating: 7.5/10