by John Kindred
– Publisher —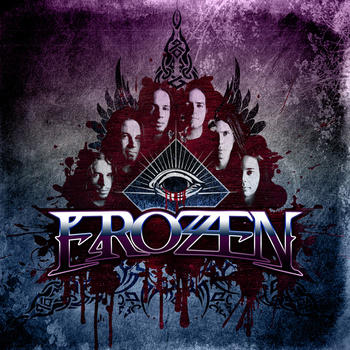 Guitarist Michael Abdow continues to amaze fans with his virtuoso talent. After releasing his latest solo album Life Symbolic in 2013, his name resurfaced with the re-release of the album 3 by the progressive metal outfit Frozen. 3 originally was released in 2011 as a digital release. 3 is Frozen's third album, which was recorded at Damage Studios, with Pete Rutcho handling production duties.
Frozen is a six-piece progressive metal outfit hailing from Massachusetts that pulls inspiration from a melting pot of genres: Death, Black, Thrash, Speed, Progressive Rock, Classical and Jazz influences. The band culls it all into metal-hybrid that is energetic and aggressive. The music was written and recorded by the band from 2008 to 2011.
3 comprises 10 songs, and each features intricate musical complexities. The music's intense aggressive nature pushes to the extreme edge of Metal but hangs back just enough to keep listeners from jumping ship. That journey is intensified by the vocal mayhem provided by Paul Benda. Trending between his natural heavy rock vocal and more intense gravely snarl, he leads listeners down a slippery slope of emotion and rage.
The compositions are driven by the feet of Conway, whose double bass attack is a constant throughout the CD. Alongside bassist Morency, he and Conway give the foundation for the musical escapades that ride over the top of their thunderous rumble. Listeners are led to the fret-board mania provided by guitarist Michael Abdow and his counterpart Jose Bahamonde, who, both, deliver a schooling for aspiring shredders everywhere. Lastly, Pete Rutcho pulls it all together, not only as producer but also lending his talents on guitars and keys.
Except for the song "Uityiu," which is new-age-sounding eclectic track with female vocal and is out of context with the overall vibe presented on 3, the album constantly fires on all cylinders. Frozen equals a fast-paced, action-infused, roller-coaster ride, and 3 is the 10-song (9 songs if you remove track 9 "Uityiu") vehicle for the band to lay out its sonic audio vision.
Genre: Progressive Metal
Band:
Kenneth Paul Benda – Vocals
Michael Abdow – Guitar
Peter Rutcho – Keyboards / Guitar
Jose Bahamonde – Guitar
Jon Morency – Bass
Colin Conway – Drums
Track Listing:
1. TRAVEL OCEANS 04:50
2. STAND UP 03:15
3. LOW VELOCITY WEAPONS 04:11
4. MORTAL RUN 03:45
5. BEHAVIORS 04:26
6. SEED DECEPTION 04:59
7. SICK AND TIRED 03:21
8. DOWNTOWN 05:31
9. UITYIU 02:25
10. 24 07:29
Label: Shredguy Records
Web: http://www.frozenusa.com/
Hardrock Haven rating: 7.5/10