Gregory Lynn Hall | Heaven To Earth
by Alexandra Mrozowska
– Columnist —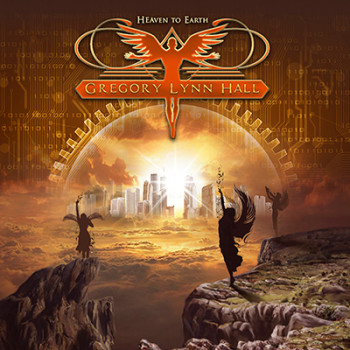 Generic and repetitive, being a third-league copy of the particular artist's original band – or too drastically apart from the previously taken music direction, laden with unnecessary sound experiments. That's how things usually end up for musicians embarking on solo path after a longer tenure in a band. However, there are tremendous exceptions to the rule – one of them being Heaven To Earth, a debut solo album by Gregory Lynn Hall of AOR band 101 South (set to be released in late July via AOR Heaven). It follows a one man-band formula as Hall holds responsibility for all vocals and instrumental parts on the album with the exception of a few guitar solos. These are a contribution of guest musicians: Craig Goldy (ex-Giuffria, ex-DIO, Budgie), Billy Liesegang (101 South, Harlan Cage, solo), Jeff Duncan (ex-Odin, Armored Saint, DC4), Mike Turner (101 South, Fair Ground) and Johnny Navarro.
"Rockin' The Road" goes first and keeps going full throttle throughout the entire four minutes! It's a perfect opener, flavored with distinct touches of blues and Southern Rock and some tasteful retro vibe to it, completed by Hall's raspy vocals. Instrumental work within the song is fine too, especially the furious guitar solo played by Jeff Duncan. The follow-up "Stars In The Night" explores quite different territories music-wise. It's edgy melodic hard rock piece, slightly heavier than what Gregory Lynn Hall did with 101 South and more in vein of Paul Sabu or Kane Roberts.
"Love Can" starts with tinkly '80s-style keyboards, signalizing a shift to more mellow AOR sound and mellow it is indeed – but not syrupy by any means, with certain power to tug at all Foreigner and Giant fans' heartstrings. As for the next track – if there's any recipe for a perfect power ballad, it's what Gregory Lynn Hall must have learned by heart and put into practice ever since. From its soft, reflective verses exploding into the powerful chorus to the incredible vocal harmony throughout the entire track, "Fly On" is the best ballad tradition revisited to the incredible effect.
The title track comes next, signifying a rapid change in the mood as it takes a listener for a rock-themed trip at breakneck pace – until the unexpected slowdown that comes with serious guitar wizardry delivered in a solo part. This one's a guest contribution of Craig Goldy, and if there was any doubt about the former Giuffria and DIO axeman being one of the most underrated six string masters in the history of rock, the guitar solo of "Heaven To Earth" proves there should be none. "Ordinary Man" is another ballad – not pre-eminent, yet enjoyable – and with "Mama Said," the journey continues somewhere down the dirt road in the midst of the US South. The feisty blues piece, enriched with trademark harmonica sound (played by Hall himself) features also guest solo from Johnny Navarro. In "Cry No More," the Americana influences blend with straightforward hard rock sound, culminating in Billy Liesegang guitar bravura.
"I Thought I Saw Heaven" and "Cryin" both mark a slowdown. However, while the former is a charming hard rock ballad, which may remind you of either Def Leppard or House Of Lords classic weepy moments, the latter gravitates more towards blues, of the similar nature music-wise as 1989 Gregg Allman's ballad "I'll Be Holding On" of the Black Rain movie soundtrack. This lengthy, emotionally laden track enriched with a wailing guitar solo – which ultimately brings to mind a picture of a lonely bluesman telling a story of his soul's torment in a smoky bar – is next to the last on the Heaven To Earth record. Afterwards, goes the final of the eleven songs included here, titled "You Got Me Runnin." This one's also slightly blues-infused, but much different in nature, feisty and dynamic. Again it's Americana-soaked Gregory's soul that speaks with his raspy voice, finishing this truly outstanding album on a very high note.
Eclectic, varied approach to music, not restrained to a particular genre, but rather revisiting the best traditions of hard rock, melodic rock and blues – that's what Gregory Lynn Hall's solo debut stands for. Interesting and diverse, shaped by Hall's undeniable multi-instrumental talent as well as fantastic contributions by the guests from the outside, Heaven To Earth is one of the best albums to be released in 2014 – even though the year in its entirety is particularly gracious to us listeners and no one knows what the future holds in store yet. One thing is certain – with artists such as Gregory Lynn Hall still around and eager to share their passion for music, this future looks at least promising.
Genre: Hard Rock, Melodic Hard Rock
Band:
Gregory Lynn Hall – all vocals, guitars, bass, drums, keyboards, harmonica.
Bandit Bellamia – drums
Craig Goldy – guitar solo (track 5)
Billy Liesegang – guitar solo (track 8)
Jeff Duncan – guitar solos (tracks 1, 2, 10)
Mike Turner – guitar solo (track 11)
Johnny Navarro – guitar solo (track 7)
Track List:
1. Rockin' The Road
2. Stars in the Night
3. Love Can
4. Fly On
5. Heaven To Earth
6. Ordinary Man
7. Mama Said
8. Cry No More
9. I Thought I Saw Heaven
10. Cryin'
11. You Got Me Runnin'
Label: AOR Heaven
Website: http://gregorylynnhall.com
Hardrock Haven rating: 9.5/10