Insomnium | Shadows of the Dying Sun
by Justin Gaines
– Senior Columnist/News Editor —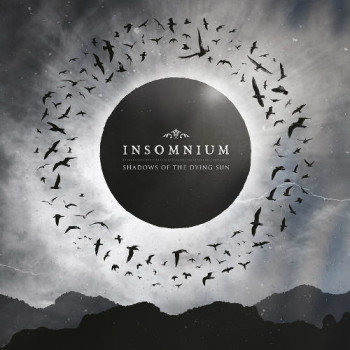 Finnish masters of melancholy Insomnium are back with a new studio album, their sixth overall, titled Shadows of the Dying Sun. The band, which initially emerged as the Finnish answer to Dark Tranquillity, has really come into their own in recent years, carving out a sound that is recognizably their own.
Shadows of the Dying Sun is an extension of Insomnium's previous album – 2011's very impressive One For Sorrow – in that the unique blend of sounds is very much in place. Insomnium's sound is still rooted in Swedish melodic death metal, but there's an old school doom metal heaviness and a strong melancholy atmospheric element. Think Dark Tranquillity back in the Haven days, Paradise Lost circa Gothic, and recent Daylight Dies and Novembers Doom, only with that Finnish sense of coldness. The atmosphere is true to the album's title – cold, gray and majestically bleak. Not that the somber tones keep the band from unleashing their death metal influences. There are some very intense songs on Shadows of the Dying Sun where speed takes the forefront, just as other songs let sheer heaviness dominate.
It's hard to call out standout tracks when an album is so uniformly excellent. The atmospheric component makes Shadows of the Dying Sun work extremely well as a cohesive whole. Still, there are some songs you can point to as proof of Insomium's mastery of this style of music, particularly the trio of "Ephemeral," "The Promethean Song" and the title track, that end the album on a furious and crushingly dark note.
Oh, and whatever issues people had with the overall sound quality of One For Sorrow seem to have been addressed. There's nothing on the production/mixing/mastering side to detract from the Shadows of the Dying Sun listening experience.
It's going to take several spins to really know whether Shadows of the Dying Sun is a better album overall than One For Sorrow, and even then that's likely to be something Insomnium fans debate until the next album arrives. The important thing is that it's another amazing album of melodic doom/death metal. Fans of Katatonia, Dark Tranquillity, Daylight Dies, Novembers Doom and early Paradise Lost in particular should absolutely love Shadows of the Dying Sun.
Genre: Death Metal, Melodic Death Metal
Lineup:
Niilo Sevanen (v) (b)
Markus Vanhala (g)
Ville Friman (g) (v)
Markus Hirvonen (d)
Track Listing:
1. The Primeval Dark
2. While We Sleep
3. Revelation
4. Black Heart Rebellion
5. Lose To Night
6. Collapsing Words
7. The River
8. Ephemeral
9. The Promethean Song
10. Shadows of the Dying Sun
Label: Century Media
Website: www.insomnium.net
Hardrock Haven Rating: 9/10