Erik Heikne of Miss Behaviour
by Alexandra Mrozowska
– Columnist —
Miss Behaviour is certainly a band every AOR/melodic hard rock fan should have kept on their radar since quite a few years. A reminder of this fact is the Swedish act's newest release Double Agent which Hardrock Haven caught up with the guitarist Erik Heikne to talk about. We've had Erik talking the group's lyrical and music inspirations, the album's production and their plans for the future – and also, got to know what does the enigmatic "miss behaviour" (the band's mascot, so to speak) have in common with Iron Maiden's Eddie …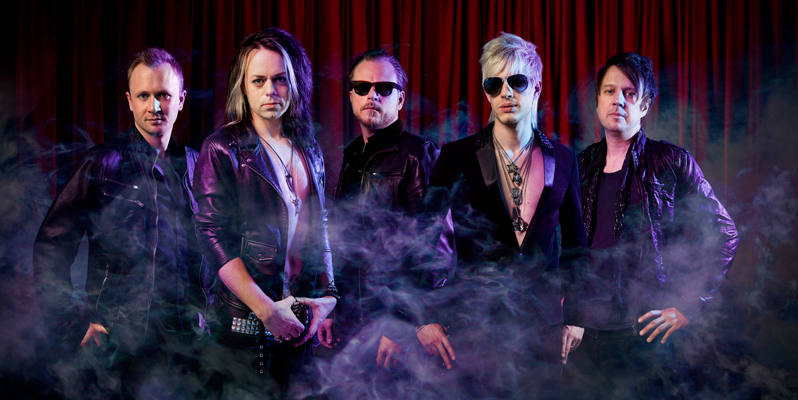 Hardrock Haven: Is the newest Miss Behaviour album Double Agent any different from your two previous albums in terms of music or lyrics? Is it more of an evolution, or a continuation?
Erik Heikne: I´d say it´s definitely evolution, we have been taking a few steps out of the comfort zone here and there, but I believe the fans who liked Last Woman Standing will definitely like Double Agent as well. One thing that you have to keep in mind when talking about why this album turned out the way it did, is the very special circumstances that preceded the recordings. We came back from tour in 2012, and our manager at the time, Michael Sundén was very eager for us to get back out on the road with a new album as soon as possible. So this project was supposed to get done in a very short time. As we got started we got a call from a friend, saying Michael had died in an accident in Nottingham, UK. This really turned everything upside down. Michael was not only our beloved friend and manager, he was also in charge of the business around Miss Behaviour. Imagine that! This whole tragedy somehow made the band and the album much stronger. I hope this emotion reaches the listener. Especially in the song "Corporation Arms", dedicated to Michael.
Hardrock Haven: Which song is your favorite on the album and why?
Erik Heikne: That changes all the time, but right now I would say "Edge of The World" cause it's kind of heavy and show a different side of Miss Behaviour I think.
Hardrock Haven: Why was it "Double Agent" that gave title to the entire album? Is there anything special about the song?
Erik Heikne: Not really, but lyrical wise it kind of picks up where Last Woman Standing ended and there is a lot embedded in the nature of a double agent, that somehow symbolize what we have been through as a band and as a group of individuals the last years.
Hardrock Haven: Songs such as "Corporation Arms" or "The Cause Of Liberty" are not typical rock rhymes revolving around the love-and-lust kind of theme. Where do you get your inspiration from, lyric-wise?
Erik Heikne: We have always looked upon ourselves as a rock band, not an AOR-band, or whatever. That is limiting in a way I think. Sure, we have a graphical concept that can be perceived as a bit cheesy to some people, but music and lyric-wise we can deal with other themes than just love-and-lust, so to speak. Henrik talked with some German magazine recently and got a question touching these subjects. I mean, the lyrics is definitely nothing that will get us Nobel prize in literature, but we try to touch important subjects from time to time.
Hardrock Haven: The epic "The Cause Of Liberty" is perhaps the highlight of the whole album. What's the story or idea behind this particular song?
Erik Heikne: Thanks Alexandra, that song is an example of what I talked about in the previous question. Musical wise it's inspired by great epic songs like "Home Of The Brave" by Toto or "Don´t Wake The Lion" by Magnum. The lyrics are kind of political but I don't want to analyze them in detail, cause it's Henrik´s song and his ideas.
Hardrock Haven: Music-wise, Double Agent explores mostly territories of contemporary AOR/melodic rock. Are you inspired more by classics of the genre, Journey for example, or the newer groups such as Work of Art, W.E.T. etc?
Erik Heikne: I think it is a multifaceted album in many ways. We all have different role models musically and I also hope that our fans and our potential fans see us like a band that try to administer and develop this genre, we don't want to be just a tribute. But you cant deny that we owe a great deal to bands like Magnum, Foreigner, Toto and such for making the music we make. No doubt.
Hardrock Haven: In "Magical Feeling," I hear the echoes of Def Leppard. In the age of Leppard-influenced groups such as Grand Design and Loud Lion, do you think Joe Eliott-fronted group were this influential towards the new generation of melodic rock bands indeed?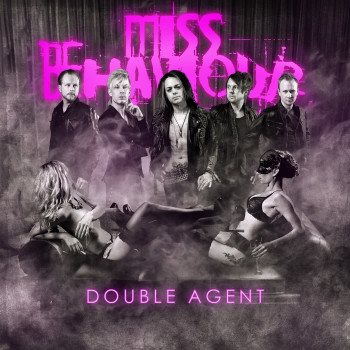 Erik Heikne: If I remember this right, Seb wrote that song after seeing Leppard in London 2012 and by listening to "Magical Feeling" there´s no way we can deny that we are huge fans of what Joe Elliot and his men have done to this genre. Def Leppard as a concept appeals to me. They never do anything half-heartedly, so to speak. Quality over quantity and that´s the way we try to do things as well.
Hardrock Haven: Double Agent was produced by the three of the band members. What kind of influence does this fact exert over the sound on the album?
Erik Heikne: Indeed, Henrik, myself and Sebastian produced the album – just like we did with Last Woman Standing. We're control freaks and we know what we are doing when it comes to produce an album. We decide in an early stage what we want to achieve when it comes to sound and production and then we work our asses off getting as close to that vision as possible. This time we wanted an album that sounded a bit more "live" and a bit more aggressive. But it's ultimately up to all of you out there to decide if we have succeeded or not.
Hardrock Haven: Again, Daniel Gese was involved in the recording process. Weren't you tempted to work with somebody new this time, who could bring some fresh ideas into the studio?
Erik Heikne: As I said on the previous question we have produced the album ourselves, but we have worked with Daniel as a mix and mastering engineer for many years. He is a very skilled professional and of course he has ideas that we nowadays tend to listen to more and more (laughs). For us, recording and producing our albums is an important part of our artistry. I think we will continue working with Daniel for years, maybe in different roles, but he is a part of our sound in a way and we will always owe him for that. You know he was in a band called Pole Position in the late '80s and early '90s so he know a great deal about this genre and the importance of great production.
Hardrock Haven: The cover artwork on the album portrays the band rather than eagles, landscapes and symbolic artifacts the AOR/melodic rock bands are eager to include on their covers these days. Do you think the graphical simplicity is better than this?
Erik Heikne: Symbolic artifacts and eagles are out of the question for us, definitely. Will never happen! I think we still look good enough to be on the cover (laughs). On a more serious note, to me the colors and the graphical composition create a unity for the album and the band, that is an important way of how we present ourselves toward the listeners.
Hardrock Haven: Do you plan to make a video to any of the tracks on Double Agent? Which one?
Erik Heikne: Yeah, I actually spoke to a couple of people I know from touring the UK the other day, and we have a really cool idea on a video. Probably we're going to do at least two videos on this album. Look for a release later this fall maybe.
Hardrock Haven: Miss Behaviour's story started a decade ago. Do you think the rock scene worldwide changed throughout the years? For better, or for worse?
Erik Heikne: Everything is in constant change I believe, but for sure, the whole music industry have gone through serious change and mostly for worse I think. Marketing wise, social media and streaming is great. But business wise it's no good. When thousands of record sales generated enough money for producing great albums, thousands of Spotify streams generates … let's say a couple of beers and a meal if you're lucky! But that's the way of the world these days and you have to adapt. Thats why we're planning to play a lot of live shows and a possible LP release for the hardcore music lovers.
Hardrock Haven: I must admit the band's name intrigued me when I've heard about Miss Behaviour for the first time. What's the idea, or concept, behind it?
Erik Heikne: I can understand why. Henrik and I got the idea ten years ago, attending a class in music management. The idea was creating kind of a quibble. Similarly to Maiden having Eddie, we also wanted a concept and this concept is Miss Behaviour, she appears on our albums and merchandise in various shapes and forms. I'm not sure if she actually can behave or not! (laughs) Ten years later this may appear a bit cheesy so to speak, but hey… I think that is the case with many bands. If you analyze things, I don't think that Def Leppard is that cool either, but now it has become an institution, something with its own history and then you don't keep the actual meaning of a Leopard with lousy hearing in mind when seeing the logotype (laughs). You associate it with quality music.
Hardrock Haven: The second album in the band's catalog, Last Woman Standing, was a big success. Do you think the third one will be raved over as much as its predecessor?
Erik Heikne: I really hope so cause we have worked so hard on this. But you never know and that's in a way the charm with doing what we are doing. We have tried to write songs that will work just as good live on stage as they do on the album, so maybe you have to attend a show to get the full experience of "Double Agent."
Hardrock Haven: What does the future hold in store for the band at the moment?
Erik Heikne: We definitely want to get out on the road performing. We have a lot of untrodden ground and we believe a lot in what we do.
Hardrock Haven: Thank you for the interview! Is there anything you'd like to add, maybe a word or two for our readers?
Erik Heikne: My pleasure Alex! I hope you guys in the U.S. give the new record a spin and let us know what you think, that's all I'm asking. Thank you so much for giving us the opportunity to speak to you about Miss Behaviour, been very pleasant!
Visit the band online: http://www.missbehaviour.se