Julian Izard of Existance
by Alexandra Mrozowska
– Columnist —
Although France might not be the country you'd associate with traditional heavy metal – well, at least not the very first choice of yours – Existance might change the way you think! This young and very promising heavy metal band, fronted by the charismatic Julian Izard, has just released their debut Steel Alive album. It's the album every Accept, Judas Priest or NWOBHM fan should have in their record collection – and it's also what Julian Izard talked about in his recent conversation with Hardrock Haven. He also shed light on the band's future plans and concert achievements – and apart from this, shared his thoughts on denim-and-leather image, linguistic choices and consequences of heavy metal upbringing.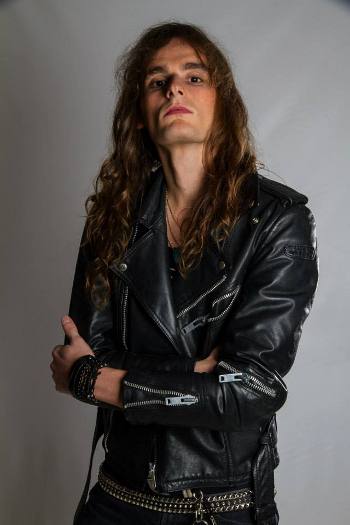 Hardrock Haven: As Existance's co-founder, please tell us about the events that led to the formation of the group back in 2008 and present the current line-up of the band to our readers.
Julian Izard: When I was 16, I ran an ad on the internet to find musicians to create my band and that's how I met Tom (bass), with whom I started Existance in the tail end of 2008. Then we found the other members of the band and we recorded a 4 tracks demo in 2010 which contains our first songs. The following year, we entered in a real studio to produce our first official demo called Existance with 8 tracks, this time. This demo was re-released in 2012 by the German label High Roller Records in CD and vinyl and we received good reviews worldwide. In the end of 2012 we got a new drummer and a new guitarist, Alex and Antoine and we started writing together our first album Steel Alive throughout 2013. We signed with Mausoleum Records in January 2014 and Steel Alive was released April 25th. Now we are on tour since March. We played at PPM Fest in Belgium with Saxon, at Dokk'em Open Air in Netherlands with Annihilator and some other festivals in France and Belgium. We didn't played for two years so it was really great to be back on stage!
Hardrock Haven: 2014 is a breakthrough year for Existance – your debut album Steel Alive has just seen the light of day. Are you satisfied with your work in the studio?
Julian Izard: We recorded Steel Alive during 3 weeks at Boss Hog Studio in northern France. Then it has been mastered in Los Angeles by Maor Appelbaum who worked for Halford, Dokken, Malmsteen … We are really satisfied with the work we have done. We were surrounded by a good team, who helped us to work quickly and in good conditions. For the recording it was easier for us because this is the second time we worked in this studio. Everyone was over the top!
Hardrock Haven: What are your favorite moments on the album? Any songs that stand out in particular?
Julian Izard: Well, I guess I have no favorite moments. I like to play "Legends Never Die" for the dual guitars part, "Steel Alive" for the chorus, "From Hell or Dead Or Alive" because they are powerful on stage but I'm unable to name a favorite song! I love all of them!
Hardrock Haven: How did the songwriting process look like? What is your approach towards songwriting – how personal do you get in your songs?
Julian Izard: We wanted to write pure Heavy Metal songs but still keep these melodic lines because it's one of our sound signature. When we wrote the new stuff, we wrote it for the live show. It was important for us that all those songs sound exactly the same as in the studio version. We have to keep the power and the energy. So, everyone had ideas, sometimes they were not good and sometimes they were excellent. That's how we work and I guess it's the best way to move forward and do better for the future.
Hardrock Haven: In your music, I notice the distinct echoes of Accept, Judas Priest or NWOBHM bands. Which bands you'd name as particularly influential?
Julian Izard: Mainly, the bands that inspire us come from the NWOBHM, it's true, but we are also influenced by many other styles like Glam Rock or Thrash Metal and sometimes by Hard Rock. All these kinds of music have the same roots! We don't want to be a caricature of a band, we want to create our own identity. Some people say that if we were born 20 years earlier, we could have had success as Accept, Judas Priest and Thin Lizzy – but we're inspired by these groups, so without them, Existance doesn't exist.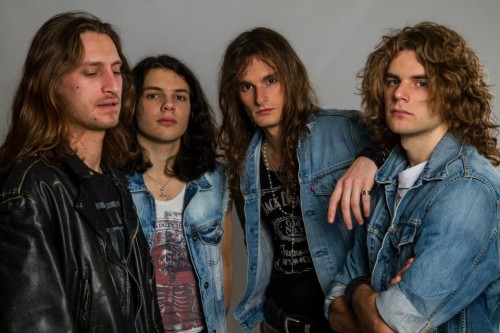 Hardrock Haven: On the other hand, your vocals reminded me quite a bit of Sebastian Bach. Who do you think influenced your vocal manner and stage presence?
Julian Izard: Sebastian Bach is one of the best heavy metal frontmen but one of my favorite singers is David Coverdale. I love his voice and his tone, but especially his stage presence. He has something special that others don't. Even if I sing with my guitar, it is harder for me to move like him but he inspired me a lot. I have a lot of respect and regard for Ronnie James Dio and I work my highest notes with songs from Rob Halford also.
Hardrock Haven: Talking about stage presence, the showmanship and image have remained an important part of the heavy metal genre. What is your approach towards this?
Julian Izard: This is part of the music. For us, it is natural to go on stage and be dressed in leather or denim and have long hair! When you have a band that plays an old school heavy metal you must use the same rules as 30 years ago. This is not just a musical show, it is also visual. Both are essentials!
Hardrock Haven: The band's line-up changed regularly throughout the years. How do you think these changes influence the current incarnation of the band?
Julian Izard: The line-up has changed a lot because Tom and I wanted four musicians who could give everything for the band. We met good musicians who did a great job and good shows, but they had not the same spirit as us. We continued to make auditions and we have found Alex and Antoine as I said earlier, in 2012. They are great musicians, they work a lot and now Existance is a 4 members-band with the same goal. Also, in Existance, each musician has his own personality, this is our strength. When four people are going in the same direction, everything comes naturally and it is easier for everybody. This has influenced our work on "Steel Alive" for sure.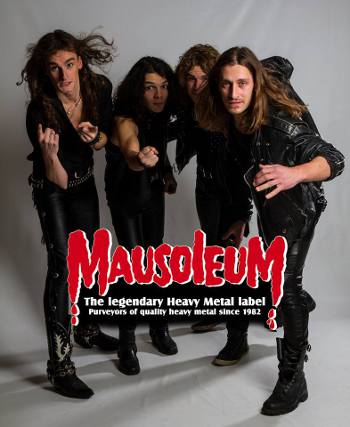 Hardrock Haven: Existance performed at many different festivals, for example Paris Metal France Festival or Long Live Metal Festivals. Do you prefer big open-air gigs to the smaller, club-based ones?
Julian Izard: Our goal is to have good times with an audience and no matter if there are 30 people or even if there are 3000 in front of us, our show will be the same. In the small venues, we are closer to the people and I love this proximity with them. The big festivals are a good way to meet more people, the audience comes to listen more bands and it's a great opportunity to be known when you are a new band. In both cases, there is a great atmosphere and it is always a good time to share with friends.
Hardrock Haven: You played alongside US heavy metal/hard rock bands like Bitch or Rhino Bucket. Having been offered endless possibilities, whom you'd like to share the stage with in the future?
Julian Izard: Like other young bands, we would like to share the stage with our idols! We had the pleasure to play with Saxon and Therion in March and we will play with Adrian Vandenberg and Tim "Ripper" Owens in some festivals this summer. We will play as support act of Vulcain in September, one of the best Hard Rock band in France since 30 years. We can say that some of our wishes have been realized, so we hope it will continue!
Hardrock Haven: Think "heavy metal" and France, sadly, isn't the first country that comes to your mind. How does the situation with the music scene look from your perspective?
Julian Izard: If a French band wants to stand out from others, no matter if they play Black, Death, Thrash or Heavy Metal, they have to play abroad, and even think of leaving the country. We have a good example: Gojira. Across Europe, the Metal is recognized at its fair value but this is not the case for a large part of the population in France. Yet, there are so many great Heavy Metal bands! There are many events organized, we have many good venues but unfortunately, it is true, this kind of music is not enough supported in our country. What a shame!
Hardrock Haven: You're not only a talented musician on your own, but also, a son of Didier Izard, the vocalist of the influential French speed metal band H-BOMB. Was it your father who encouraged you to become a musician?
Julian Izard: Yes that's right, I grew up listening to Heavy Metal music with my father, and I immediately liked this. I remember when I was younger, I preferred watching videotapes of Thin Lizzy and Judas Priest rather than watching cartoons. As you said, my father was a singer and I wanted to have a band like him. So I learned to play the guitar and he taught me how to sing. I guess it's in my veins!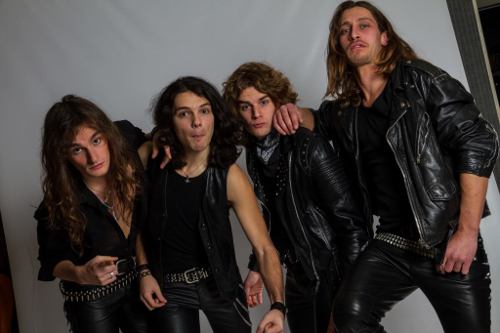 Hardrock Haven: Due to the fact your father's name is quite known in the local metal scene, weren't you afraid of being compared to him or perceived from the perspective of his accomplishments in metal music?
Julian Izard: Well, this comparison is inevitable. There is always his name in reviews and interviews but I'm not afraid of being compared to him because our music styles are different. We play an old-school heavy metal style, as you know, while H-Bomb brought something new in France at the time: the speed-metal. So, musically this is not the same thing. Vocally, he taught me a lot so we'll see, it's up to me to do better than him!
Hardrock Haven: H-BOMB had lyrics in French. Have you ever thought about singing in your native language? Why do you think so many hard rock/heavy metal bands from non-English speaking countries turn to English anyway?
Julian Izard: I never thought about singing in French, simply because I've always listened to bands in English. Even If I can sing in French – and have success abroad – I think it is harder to do this in my native language with this style of music. When I created Existance, I already thought about gaining popularity abroad and there is no other way than to sing in English to be understood worldwide. The question was quickly resolved for me!
Hardrock Haven: What are the band's current plans?
Julian Izard: We will continue to give concerts to promote our album, meet more people and prepare the successor of Steel Alive!
Hardrock Haven: Thank you for the interview! Any last words?
Julian Izard: Thank you very much for your support, we would like to thank all metalheads who read this interview and if you want to know more about Existance and follow our tour dates, visit our Facebook page and website – http://facebook.com/existanceband or http://www.existanceband.com. Don't forget that Heavy Metal is "steel alive" and spread the word about us!