by Deb Rao
– Senior Columnist —
Skid Row is gearing up for the release of one of its strongest EPs to date Rise Of The Damnation Army – United World Rebellion: Chapter Two on Aug. 5. Over the years, Skid Row has remained a great touring band. The strength of their live show reflects on their upcoming EP. Skid Row dug deep into their past hardcore roots to rediscover the successful formula that launched the band back in its heyday.
In concert to this day, Skid Row is a force to be reckoned with. I can attest to this because I saw the band perform at Fremont Street Experience where they broke all attendance records along with Warrant. In this exclusive interview for Hardrock Haven bassist Rachel Bolan discusses the upcoming release, upcoming touring plans, pays to tribute to Tommy Ramone and discusses his passion for race car driving.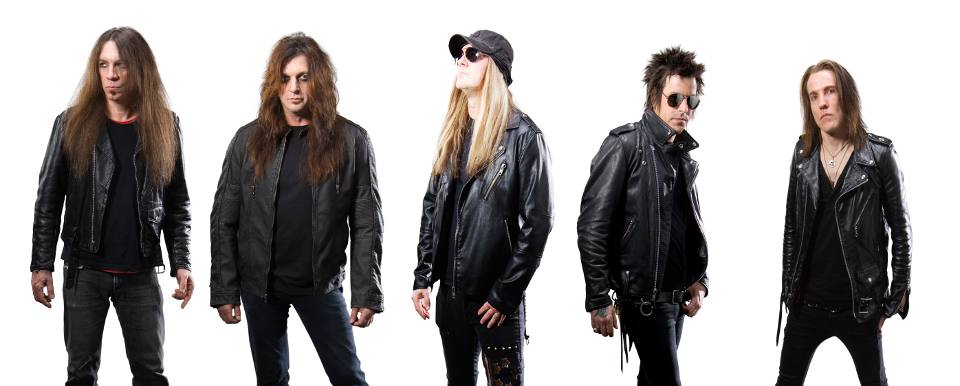 HRH: Rachel, welcome to Hardrock Haven. It has been awhile. Tell us about the writing process for Rise Of The Damnation Army. It seems like you are returning to your old school roots on this release. The CD sounds amazing and really strong.
Rachel: Thank you so much. We kind of approached it and the first chapter as well retracing our roots. But 25 years in, it is really hard to retrace your roots. So that is what we did. And we feel that we got a pretty good hold on it. We just went to writing the same way that we always did. We bounce ideas off of each other. We would write some in my house in Atlanta. Then we would write some with Snake. Then we would present it to the guys and hope they liked it too. It is never a Skid Row song until everyone puts their creativity into it. We really made a conscious effort to really find the sound that we had back in 1989 and 1990. It is always a fun process. There is never any arguing in the studio because we respect each other so much
HRH: Right. It seems like you have some really new classic hits on this. Now "We Are Damned" reminds me of "Youth Gone Wild." It could be the new anthem for this generation. Do you agree?
Rachel: I am hoping so. That is really nice to hear. I read that in your review. It made me feel really good. We put a lot of work into that song.
HRH: Also on the second song, you are all over it with your punk roots on "Give It The Gun."
Rachel: That wan an old school rocker. I am chunking along to one note. We started jamming and I was playing the bass. Then I went back to the house and I worked on it a bit.
HRH: You also experiment with ballad on "Catch Your Fall." Johnny sounds great on this song.
Rachel: I really liked it. We had two ballads written and we couldn't decide on which one. Then we demoed it, Johnny's vocals soared on it. I am really proud of that song.
HRH: How would you describe "Sheer Heart Attack?"
Rachel: It is a cover song by Queen. We put two covers on the CD. "Rats In The Cellar" and this. It fits the theme of United World Rebellion. It was just so cool to record that. I hope to play that live one-day.
HRH: Skid Row is known for touring. How did playing so many gigs live have an effect on the progress of the EP? This EP sounds so tight.
Rachel: You keep your chops up the more you play. We have played so much the last two years; it is kind of like a machine. We did a 100 shows last year. We are doing around 100 this year as well. We are playing some of the biggest festivals that we ever played. We plan on doing the same next year. It does keep you tight. It is always good for a band to stay out on the road.
HRH: You also have a huge following in Europe.
Rachel: Yes, Aug. 1 we are playing Dokken. The night before we are playing the Polish Woodstock, there will be a half a million people there. I am still trying to get my head around that.
HRH: When the band came back to the scene in 2000, what was it like opening for KISS?
Rachel: That was like the tour of all tours. We grew up all such big KISS fans. They were the first band that most of us saw live. To go out there and be able to watch them every single night was amazing. What was supposed to be three months turned out to be nine months out on the road with them. It was a pretty great thing. We did 90 shows with them and I probably saw 85 of them. I am a big KISS fan. And being a big KISS fan and seeing them every night, I was in heaven on that.
HRH: Kiss just announced their residency in Vegas Nov. 5th – 23rd.
Rachel: We will be over in Europe at that time.
HRH: That is too bad. It would have been great for you to see them again.Is there anything else that you want to say about the new album? Whose idea was it to record an EP instead of a full length CD?
Rachel: I don't know whose idea it actually was. Somebody presented it to us about putting out three EPs. We really liked the idea. Because it keeps you out on the road. It keeps the music fresh. From an economical standpoint it is easier for Skid Row fans to throw down six dollars for an EP than to throw down 20 dollars for an album. For a songwriters stand point you write ten and pick five. It is cool. We like doing this way. It keeps everything fresh. It keeps it constant.
HRH: Right and there are no fillers, which is cool. Every song is really strong.
Rachel: I appreciate that. Thank you.
HRH: So the band plans to be on the road the rest of the year correct?
Rachel: Pretty much. We are taking a break in August. Then we have another U.S. run. Then we head over to Europe and the UK. Then we meet up with Saxon in Germany.
HRH: I saw the band at Fremont Street Experience. You broke all attendance records that night. It was a great show.
Rachel: Yes, that is what one of the organizers said. There were about 15,000 people there that night. It was a really good feeling.
HRH: It was a sad weekend. Tommy Ramone passed away. How did The Ramones influence you?
Rachel: The Ramones were just one of those bands that made the statement to me anyway was being a freak was OK. It is OK to be a freak. Go out and follow your dreams. That is the kind of influence that they had on me. There stuff was simple, to the point but it really had a big impact on me. Tommy's passing was sad. Hopefully they are all back together again making noise somewhere.
HRH: Right, they are up in heaven. Are you still race car driving?
Rachel: I do when I can. I haven't for a couple of years. We have been so busy. It is funny; we were on tour with our buddies Buckcherry. Josh is big into racing. So we are going to try and get together.
HRH: Thank you so much for checking in with Hardrock. Haven. The EP is amazing. It is good to see the band still making great music. Best of luck.
Special Thanks to Amanda from ABC PR for making this interview possible.
Visit Skid Row online: www.facebook.com/officialskidrow