by Deb Rao
– Senior Columnist —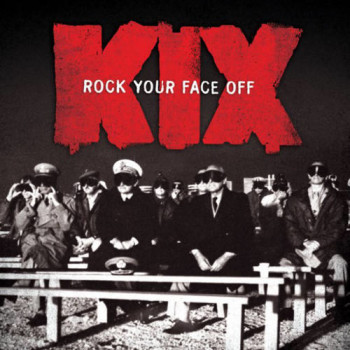 It has been two decades since Kix has released any new music. This is all about to change, as the pride of Maryland gear up for the release of Rock Your Face Off on Aug. 5 via Loud And Proud Records.
A lot has changed since the heyday of metal. But it is good to see that Kix has stuck to their signature style in your face AC/DC sound. Rock Your Face off picks off where the band left off. Opening with "Wheels In Motion" the razor sharp guitar playing of Brian Forsythe dominates this album. "You're Gone" continues with the hard-hitting AC/DC riffs. Singer Steve Whiteman is a powerhouse on vocals.
Kix who rule the Maryland and East Coast community continue with their sexy persona on "Rollin In Honey." This song is very tongue in cheek and captures the party vibe of the band. Title track "Rock Your Face Off" explodes with the high energy that band is noted for in concert. This song is a tribute to touring and the audiences that support the band year after year.
The rhythm section of bassist Mark Schenker and drummer Jimmy Chalfant is very tight and holds the band together with its ferocious beat. Kix who are also known for they're bluesy influence shine with a Black Crows vibe on "All The Right Things."
Kix also experiment with a ballad on the song "Inside Outside Inn." The single "Love Me With Your Top Down" is an ode to summer and a party anthem. The album ends on a high note with "Rock And Roll Showdown."
In the vein of Blow Your Fuse the up tempo beat of the band never diminishes and keeps on rolling. The tightness of the band is evident. What really sells this album is the sizzling guitar riffs of Brian Forsythe. Rock Your Face Off is the perfect summertime record. Crank it up to ten and roll your top down, as the pride of Maryland shows the country how to rock East Coast style.
Genre: Heavy Metal, Hard Rock
Band: Steve Whiteman – Vocals
Brian Forsythe –Guitar
Ronnie Younkins – Guitars
Jimmy Chalfant –Drums
Mark Schenker – Bass
Track Listing:
1. Wheels In Motion
2. You're Gone
3. Can't Stop The Show
4. Rollin' In Honey
5. Rock Your Face Off
6. All The Right Things
7. Dirty Girls
8. Inside Outside Inn
9. Mean Miss Adventure
10. Love Me With Your Top Down
11. Tail On The Wag
12. Rock And Roll Showdown
Label: Loud And Proud Records
Website www.facebook.com/officialkix
Hardrock Haven rating: 9/10