Kristy Majors and the Thrill Kills | Kristy Majors and the Thrill Kills
by Matt Karp
– Senior Columnist —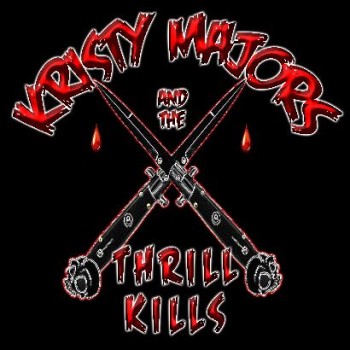 Think of the best 80s' hair metal albums and Leather Boyz with Electric Toyz will always get an honorable mention. Fast forward to 2014 and the face of Pretty Boy Floyd is still making some swaggering Rock n' Roll.
Kristy Majors' new project is another stellar effort, but this time he fuses his trademark glam rock with the classic 70s' punk sound, and if you loved Ramones or Sex Pistols, then this self-titled debut is a must listen.
Half an hour of non-stop hard aggression clears the cobwebs from your ears- it's like listening to Rocket to Russia or Never Mind the Bollocks … for the first time, all over again.
"Beginner's Luck" is a great start, with tasty guitar hooks and fast drumming in the vein of "Blitzkrieg Bop." Vocally Majors still sounds relevant, and the pace continues through "Deathbeat" which is one of the more Pretty Boy Floyd-sounding songs on the album. The melodic glam-tinged rock has a good singalong chorus, and with "Empty Handed," you just want to dust your air guitar off and rock out with … something else out.
"Broken Lip" has a strong Sex Pistols vibe, with some trashy vocals and an all-round dirty punk feel because of the added aggression.
Anywhere you look on this album, you have something that is highly entertaining. "Falling Behind" is one of the strongest tracks; another PBF song that would have fitted nicely into the Leather Boyz track listing. Then there is the protopunk style treasure of "Stagnation Street," simply brilliant.
There is even time for a classic cover in the form of the raw take on The Who's "Baba O'Riley", titled here as "Teenage Wasteland." The modernised instrumental is excellent, but slightly dominates Majors fading vocals.
"Magazine" ends the album in a slightly slower tempo but it is still a good rocker and not out of place.
Majors recorded and produced the whole record, with a little help from fellow PBF man Kari Kane on drums, and this album is a resounding success.
If you are stuck in the 70s' when punk was at its best, then you will be pleasantly surprised that even in this modern day, punk is still alive and kicking, and so is Kristy Majors.
Genre: Glam Rock, Punk Rock
Band:
Kristy Majors- Vocals, Guitars, Bass
Kari Kane- Drums
Track Listing:
1. Beginner's Luck
2. Deadbeat
3. Empty Handed
4. Broken Lip
5. Stagnation Street
6. Pissed It All Away
7. Over and Over Again (The Same Thing)
8. Make Up
9. Falling Behind
10. Teenage Wasteland
11. Magazine
Label: Independent Release
Website: www.kristymajors.com
Hardrock Haven Rating: 8/10