Neil Daniels | Let It Rock: The Making of Bon Jovi's Slippery When Wet
by Alexandra Mrozowska
– Columnist —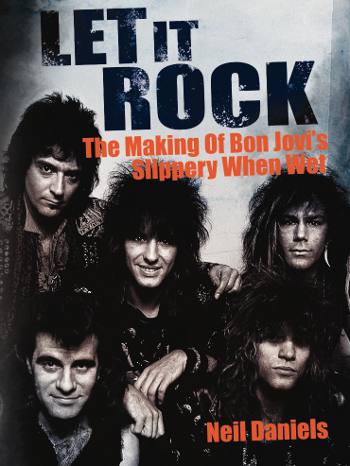 You can love them or hate them – and it's probably an equal number of rock fans on both sides of the spectrum – but one thing you have to admit is that Bon Jovi is a pop culture phenomenon. They made it to the top of the rock n' roll pantheon with the success of their third album Slippery When Wet back in 1986, and they've also occupied it ever since, still loathed by music critics but nevertheless continuously able to fill the huge stadiums and arenas. Neil Daniels, the rock writer and journalist recently interviewed for Hardrock Haven, decided to see into this phenomenon from perspective of Bon Jovi's breakthrough and most popular album Slippery When Wet. The result of this is a book: Let It Rock: The Making of Bon Jovi's Slippery When Wet published by Soundcheckbooks. The book's an attempt at answering the question what's made over 28 million people worldwide buy a copy of Slippery When Wet, making rock giants out of the second-league Jersey band.
Surprising is that you don't really have to be a die-hard Jovi aficionado to enjoy this book. In fact, it's aimed at much wider group of readers than just a specific bunch of people who used to wallpaper their bedroom walls with Bon Jovi foldout posters from Kerrang! or Circus and who watched their VHS copy of Access All Areas: A Rock & Roll Odyssey so many times it's eventually worn out. Not as much a biography as a portrayal of a cultural phenomenon the Slippery When Wet album obviously was, the book captures a moment of radical shift in rock music and a change within rock audience. That is, the moment when rock started to appeal not exclusively to the young, rebellious outcasts, but also to the squealing female fans – and this change was something the five guys from Jersey largely contributed to. It's also a rags-to-riches tale of how the album's success launched relatively unknown band into global stardom – and an American Dream-themed story of how hard work, talent and luck all combined let them make it rather than break it. This tale being told against the background of the advent of MTV and visual culture, there's much more to this book than just a history of the band you can personally love or hate.
Speaking of history, another fantastic aspect of the book is its complexity. Although the title suggests its focus on the process of making Slippery When Wet and the aftermath of its release, the book is in fact divided into four parts. The first starts with the young John Bongiovi recording a four track demo – the breakthrough song "Runaway" included – back in 1982, and the third ends with the infamous departure of Richie Sambora during their 2013 Because We Can Tour, giving a relatively detailed account of the entire Bon Jovi's career. It's the second part that focuses solely on Slippery When Wet, giving details about all the circumstances behind writing material for the album, the process of recording and releasing it and its enormous success. For the rock chroniclers, there's also a detailed Bon Jovi discography, videography and filmography included – as well as the entire set of tour dates of the band's 1986-1987 tour, dubbed The Never Ending Tour not without a reason.
Let It Rock is preceded by foreword by the former Kerrang! journalist Paul Suter and finishes with an afterword by Derek Shulman, who signed Jon Bon Jovi (and his band) back in 1983 as an A&R representative at PolyGram Records. Yet, an equally huge asset to the book's content are the further comments and reminiscences on the album, the subsequent tour and the band itself, provided by the cream of rock journalists and writers and notable musicians of the 1980s era, from Krokus' Marc Storace to the former guitarist of KISS, Bruce Kulick. The highlight is perhaps the straight-in-your-face (and intentionally comical at times) entry written by Classic Rock Revisited's Jeb Wright, whose alleged "allergy" to Bon Jovi leads him to express a few surprisingly apt and objective observations on the subject.
Told in straightforward language and amazingly concise as for the time span it covers, Let It Rock: The Making of Bon Jovi's Slippery When Wet is a fine, solid work. Although the die-hard Bon Jovi fans probably already know the majority of facts described in the book – and such issues as "Pizza Parlour Jury," the characters of Tommy and Gina or the history of the Slippery When Wet cover sleeve are much familiar to them – it's always good to refresh your memory. The same goes for the track-by-track review of Slippery When Wet included in the book – while it seems there's nothing new to say about this record after countless reviews and analyses being done, it can remind you what you loved (or hated) it for in the first place. It can also prompt you to take your worn-out vinyl copy of Slippery When Wet out of the shelf and dust off your turntable – what I'd be happy to do now, after the enjoyable reading of Let It Rock. This I recommend not only to Bon Jovi fans, who's going to treasure it anyway, but to anyone interested in the history of rock music, especially in the aspect of its uneasy relationship with mainstream pop culture. It's certainly worth reading.
ISBN: 9780957144286
Publisher: Soundcheckbooks
Website:
http://www.neildanielsbooks.com/
http://www.soundcheckbooks.co.uk/letitrock/