LINE UP SET FOR SKULL FEST 2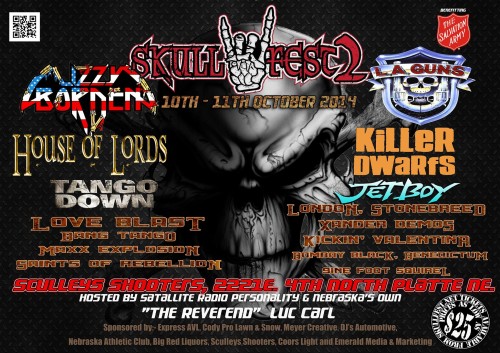 Skull Fest is set to return to the middle of America this year, with a hard rocking line-up featuring both classic artists and up-and-comers alike! Concert promoter and organizer, Arttie Parker, says the festival is aiming to give the fans the best of both worlds and to fit the needs of the concert goers.
"We are very excited with this year's line-up! We feel like we have two absolute legends in Lizzy Borden and LA Guns as headliners for Friday and Saturday, respectively, and a really strong supporting cast of unique acts that people can't simply go out and see anytime they want to, such as House Of Lords, Jetboy, and Killer Dwarfs. Mix in other classic bands like Bang Tango and London, Tango Down (which features David Reece of Bangalore Choir and Accept on vocals), and several newer bands such as Loveblast, Bombay Black, Kickin' Valentina, Stonebreed, Maxx Explosion, and Saints of Rebellion, and it's a great line-up! Then, add an absolute guitar shredder in Xander Demos, Benedictum, and regional favorites, 9ine Foot Squirrel, who have a CRAZY nine year old drummer! Plus, the 'Reverend' Luc Carl will be emceeing both nights!"
This year's festival is scheduled for October 10 and 11 at Sculley's Shooters in North Platte, NE, which is dead center in the middle of the United States, and an easy drive from major airports in Denver or Omaha. Tickets for both nights can be had for just $55 total, with several different VIP packages to choose from, including the Rock Star Experience Package which includes a guitar, amp, and guitar lessons from Xander Demos!
SKULL FEST RETURNS!!!
FRIDAY, OCTOBER 10, 2014
LIZZY BORDEN
HOUSE OF LORDS
TANGO DOWN
LOVEBLAST
BANG TANGO
MAXX EXPLOSION
SAINTS OF REBELLION
SATURDAY, OCTOBER 11, 2014
LA GUNS
KILLER DWARFS
JETBOY
LONDON
XANDER DEMOS
BOMBAY BLACK
STONEBREED
KICKIN' VALENTINA
BENEDICTUM
9INE FOOT SQUIRREL
For venue information or to purchase tickets or VIP packages, go to www.skullfest.net.