by Jonna Ambur
– Senior Photojournalist —
July 14th, 2014 at The Outer Space in Hamden, CT. —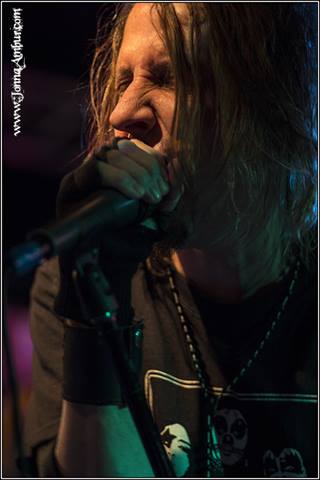 Punk metal band from NOLA, EYEHATEGOD greeted several hundred fans at The Outer Space this week. Bringing their sludgy sound to CT in a small club was a treat for those that follow the band but missed out on their previous scheduling a few years back that was cancelled due to a storm.
The intimate setting was perfect, as it led to the band milling with guests and having the chance to take pictures and chat up their latest goings on. The band clearly enjoyed the personal experience as much as the fans.
Following the death of their original drummer, Joey LaCaze, in 2013, the band added Aaron Hill to the lineup. Jimmy Bower, also the drummer for Down, shared guitar duties with Brian Patton. Bassist Gary Mader on and Mike Williams on vocals rounds out the amazing lineup that is EHG.
EHG released their first self-released demo in 1989, followed by four studio albums, two compilations, two DVDs and their most recent release, EYEHATEGOD which dropped on May 27 of this year.
This showed was opened by Iron Reagan, Strong Intention and Sea of Bones.
LIVE! | EYEHATEGOD Concert Photo Gallery
Visit EYEHATEGOD online: http://eyehategod.ee/