by Deb Rao
– Senior Columnist —
July 12th, 2014 at Vamp'd in Las Vegas, NV. —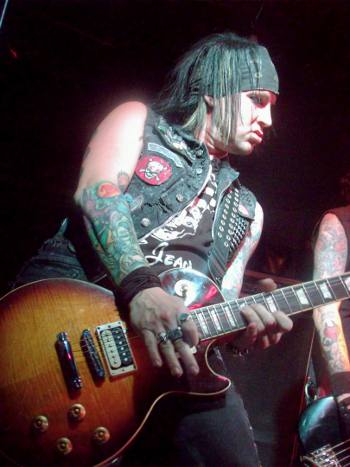 Faster Pussycat turned Las Vegas club Vamp'd into the Sunset Strip Glam-Rock haven for one night on July 12. The evening would not have been complete without the dancing girls on top of the VIP section stairway.
Faster Pussycat is currently on the Bang Your Head Tour but on an off night Vegas was treated for a special evening. Hitting the stage at Midnight, Taime Downe and company turned Vamp'd into party central. Opening with "Jack The Bastard" the band cranked out all of the hits including "Cathouse" "Sex, Drugs, and Rock 'N' Roll in a 90-minute set.
Taime Downe sported his black leather outfit and war paint ready for rock and roll battle turning up the heat! Taime who puffed on his cigarette is the epitome of coolness. Guitarist Ace Von Johnson riffed out the punk rock riffs. His style reminds me of Keith Richards meets The Ramones.
Highlight of the set included Taime sitting on a lit up Cross singing "House Of Pain." He also dedicated this song to former guitarist Brent Muscat. The crowd went ecstatic for "Bathroom Wall." Other highlight included the revved up punk version of "You're So Vain." The weekend had a sad vibe due to the passing of Ramones' drummer Tommy Ramone. In honor of Tommy's passing Faster Pussycat played tribute to the fallen Ramone. Bassist Danny Nordahl sang Ramones hits,"Hey Ho Let's Go", and "Pet Semetary." This was very moving.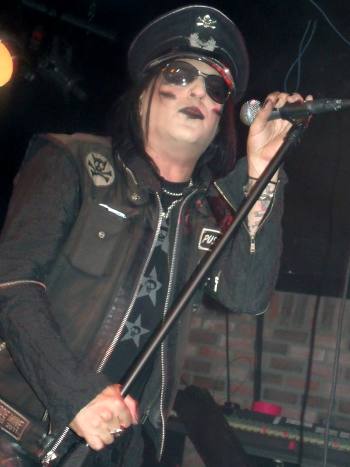 The show ended with "Shut Up And Fuck." It was a great evening of rock n' roll and a trip down memory lane of the heyday of Glamrock Metal. After the show Taime and the band hung out with fans. Be sure to catch the band on the Bang Your Head Tour with Quiet Riot this Summer.
Set List:
Jack The Bastard
Cathouse
Slip Of The Tongue
Number 1 With A Bullet
Sex, Drugs, and Rock 'N' Roll
House Of Pain
You're So Vain
Don't Change That Song
Shutting You Down
Bathroom Wall
Hey Ho Let's Go -Ramones Tribute
Pet Semetary – Ramones Tribute
Pretty Fucked Up
Shut Up And Fuck
Visit the band online: www.facebook.com/fasterpussycat