LIVE! | Papa Roach, P.O.D. & Lit
by Deb Rao
– Senior Columnist —
July 4th. 2014 at Fremont Street Experience in Las Vegas, NV. —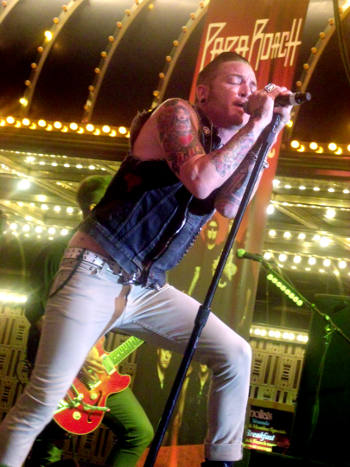 The 4th of July weekend in Las Vegas proved once again to be one of the top hotspots for visitors to spend their Holiday weekend. As thousands rushed to the Vegas Valley to ring in UFC Fight weekend, many fans gathered at the Fremont Street Experience to celebrate the 4th with a special concert with Papa Roach, P.O.D, and Lit.
If you live in Vegas, you know that it hardly ever rains here. But Mother Nature reared its ugly head and opened up the skies for a pouring rain shower as Lit hit the stage at 9:10 P.M. The driving rain did not stop the show and actually felt good after baking in the 110-degree heat. This was my second time seeing Lit and they did not disappoint. They have a hard driving alternative sound that resonates such hits as "My Own Worst Enemy" and highlight of the set "The Broken." Singer A. Jay Popoff is a great front man.
Next up Nu metal band P.O.D. from San Diego took full control of the stage with their heavy rap sound. They kind of remind me of Limp Bizkit in a way. Guitarist Muriel Curiel has a beautiful hand painted guitar that featured the Virgin Mary and a cross on it. It almost looked like a Muriel. Thanks for the guitar pick Muriel. Singer Sonny Sandoval donned his San Diego Chargers Lightning Bolt hat. P.O.D has so much energy onstage. Highlight of their set included the singer dedicating the song "Beautiful" to his three daughters. This was the only slow moment of the set. Other highlight included "Alive" and the song "What I Got."
Next up the moment the fans were waiting for Eleven Seven Music headliner Papa Roach. I have seen Papa Roach many times and this time the band killed it. Singer Jacoby Shaddix was pumped up and ready to rock. The band opened with "Burn." Highlights of the set included new songs "Between Angels And Insects" and "Where Do The Angels Go?" A couple of songs into the set singer Jacoby Shaddix told the crowd to come up front and jump the VIP barrier. A few minutes of chaos occurred but then the security got everything in control, as the fans rushed to be up front with the band. Let the mosh pits begin shall we?
Anyone who has ever seen Papa Roach live know the energy the band thrives on onstage. Tonight, picture this times three. Papa Roach also played all of the hits including "Scars" and ended the set with "Last Resort." Be sure to check out Papa Roach on tour this summer.
Papa Roach Set List:
Burn
Silence Is The Enemy
Blood Brothers
Give Me Back My Life
Between Angels And Insects
Where Did The Angels Go
Forever
Lose Yourself
Broken Home
Born With Nothing
Die With Everything
Infest
Still Swinging
Scars
To Be Loved
Getting Away With Murder
Last Resort
Visit Papa Roach online: http://www.facebook.com.paparoach/