Miss Behaviour | Double Agent
by Alexandra Mrozowska
– Columnist —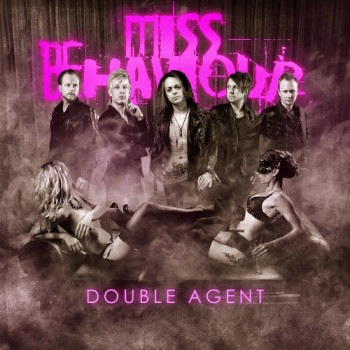 Year after year, it's getting clearer and clearer it must be something in the air in Scandinavia (or maybe it's the water that is to blame?). Just because it's the residents of this cold peninsula who tend to deliver the most melodic and catchy… and, funnily enough, the hottest releases in category of AOR/melodic rock. But enough of socio-geographic gas for now, as it's only music that should do the talking. And in the case of Miss Behaviour, the Swedish melodic rock act releasing their third album Double Agent in August via AOR Heaven, it really speaks volumes.
Miss Behaviour simply seem to tick all the boxes if it comes to the keyboard-laden pomp rock sound – catchy if not infectious, introduced in the first track "On With The Show". "Double Agent" follows, the one to charm the listener with its killer hook and so-totally-'80s, powerful synthesizers. Equally charming, yet of slightly different nature is a mid-tempo "Cold Response." It's saccharine soft rock at its best – maybe a bit too poppy for a die-hard metalhead, but certainly enjoyable, something in vein of Bon Jovi's "Without Love" of their Slippery When Wet album. Opened with a powerful group chant, "Magical Feeling" certainly has some Def Leppard-esque vibe to it – or, because of slightly more modern sound, is close to Leppard-infused style of the likes of Loud Lion or Grand Design.
Next an obligatory acoustic ballad comes in all its somberness and is titled "Corporation Arms". Again, you may say every Warrant must have had its "Heaven," but this conclusion will be absolutely out of spite anyway – the ballad's absolutely perfect and, just for once, not a sugary love-and-heartbreak kind of thing. Speaking of the four letter word which doesn't start with "f" – here comes "Love Reflector," another keyboard-laden, hooky piece which should leave every '80s rock aficionado absolutely satisfied.
"Edge Of The World" is the contemporary "wall of sound" AOR style to the utmost – vocal harmonies and spacious, dynamic keyboard sounds dueling with a portion of guitar wizardry, all mixed to the powerful, anthemic effect. "Don't Let It End" and "Midnight Runner" has the band exploring the territories of sugary melodic rock in vein of contemporary bands 91 Suite or Houston. Both tracks could fit into Johnny Lima's catalog as well.
"The Cause Of Liberty" gets a bit feistier and powerful; in spite of its length, this epic song laden with serious keyboard wizardry literally storms through the entire eight minutes of it. The album closes with a killer modern AOR piece "Dancing With Danger" and a monumental, dramatic ballad "Silver Rain" – the latter enriched with absolutely recherché guitar work in the best tradition.
If you're not familiar with Miss Behaviour's two previous albums Heart Of Midwinter and Last Woman Standing, now it takes to check out only the opening "On With The Show" to find out if the group suits your taste or not. If your shelves are sagging with the CD's of W.E.T, Brother Firetribe or Work Of Art – and vinyls of Europe, Journey and Def Leppard are these you treasure the most in your collection – you'll love Double Agent from the start. Perhaps not flawless, but a solid one – with certain highlights, perfected vocal harmonies and instrumental showcases along the way – the album is a must-have addition to the collection of every AOR fan. Much recommended.
Genre: Melodic Hard Rock
Band:
Sebastian Roos – Vocals
Erik Heikne – Guitars
Henrik Sproge –Keyboards
Nicky Bloom– Bass, Guitar
Magnum Jacobs – Drums
Track List:
1. On With The Show
2. Double Agent
3. Cold Response
4. Magical Feeling
5. Corporation Arms
6. Love Reflector
7. Edge Of The World
8. Don't Let It End
9. Midnight Runner
10. The Cause Of Liberty
11.Dancing With Danger
12.Silver Rain
Label: AOR Heaven
Website:
http://www.missbehaviour.se
https://www.facebook.com/pages/Miss-Behaviour-official/139417712776640
Hardrock Haven rating: 8/10