Neil Daniels | High Stakes & Dangerous Men: The UFO Story
by Alexandra Mrozowska
– Columnist —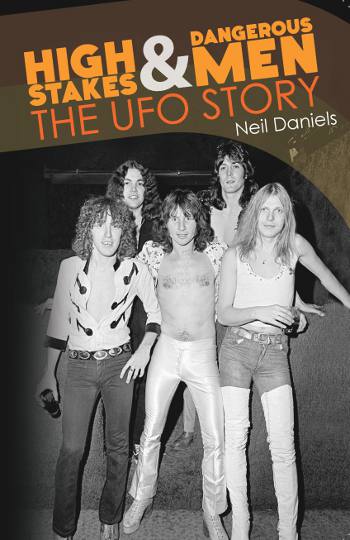 UFO – who celebrate their 45th anniversary this year – remain a group as influential and important as their peers Deep Purple, Black Sabbath or Uriah Heep. However, it's arguable that they enjoy the same deserved cult status as their above contemporaries. For some reason, the Phil Mogg-fronted band remain kind of unsung heroes of 1970s hard rock – this status quo perhaps being what triggered a rock writer Neil Daniels to portray UFO in close-up. The title of the book High Stakes & Dangerous Men: The UFO Story, borrowed in part from the title of the band's 1992 album, aptly fits the content of the subsequent ten chapters. What was at stake throughout over forty years of UFO's career was the band's existence – with changing line-ups, personal conflicts, shifts in the music market or the substance abuse of the band members. And as the book's pages reveal, it must have taken much persistence not to lose in this game.
Published by Soundcheckbooks, High Stakes & Dangerous Men: The UFO Story is divided into chapters according to the subsequent phases in the band's career. It covers a span from their late '60s space rock beginnings to the contemporary days of Mogg-Parker-Raymond-Moore line-up. Foreword is provided by Eddie Trunk, the American radio personality and author (and a UFO fan), whereas the book ends with an afterword by British rock journalist Peter Makowski, giving a kind of cross-cultural perspective to the whole issue. Things may be a bit different at the both sides of the pond, which UFO themselves experienced more than once, but their music certainly has no borders.
Covering a time-span of more than 40 years, the book is startlingly consistent and sterling piece of work. Although UFO happens to be associated mostly with the mid-1970s Michael Schenker era, Neil Daniels doesn't fail to present the entire story rather than just highlights. He takes a listener through painstaking analysis of the line-up changes and gives much detailed information on concert set lists or the subsequent releases in the band's discography, be it regular albums, singles or re-issues. The chronicler's credibility is further proven by having delivered many biographical details regarding not only the current and former UFO members, but also their producers and collaborators.
The facts are interwoven in the book with comments from people either from the band, or these who worked with them – producers, musicians, journalists and reviewers. These contributions make the whole reading genuine and versatile story as even unfavorable opinions or reviews are quoted to an interesting counter-perspective or even polemic with the writer and potential UFO-loving readers. These comments also provide insight into the recording process of the respective UFO albums as well as behind-the-scenes look onto the band members themselves. More than once the author attempts to explain tensions that led to crises and line-up changes in the band, by using quotes from the people involved. It emphasizes how difficult interpersonal relations may be not within this particular band, but just any music band.
Song-by-song examination of the entire UFO discography gives insight into the band's catalog to those not familiar with it yet, while an author's approach is that he never discourages a potential listener from a particular album, flawless or flawed. Even though personal, his opinions are very balanced. Sometimes, though, he indulges himself a bit, as in quoting his tongue-in-cheek gig review of the early 2000s UFO performance which is hard not to follow with a chuckle.
Perhaps the biggest asset to the book is not as much the well-written band's biography, which is the main part of it, but a well-developed historical background. As the book starts, it takes a reader back to the late '60s when UFO begun – but alongside telling the band's story it also reveals much on how the music industry operated four decades ago, also showing how it changed further on. It portrays the group against the background of the particular point in time, showing their relation to punk wave, NWOBHM or AOR/pop metal or comparing them with other bands of their era. It also comments on UFO as a part of the US versus the UK struggle for dominance over worldwide music market.
Although an over 200 page complex biography, High Stakes & Dangerous Men: The UFO Story is much enjoyable reading, mostly because of anecdotes, vignettes and many lively stories quoted. Think of Michael Schenker rumoured to be leaving UFO because of his being abducted by… UFO or the prank jokes done by band members towards the band Rush – fluffy pink slippers involved … it's hard not to smile while reading this.
For reasons being obvious, High Stakes & Dangerous Men is a prescribed reading for every UFO fan – but what is more, it's a prescribed reading for every rock fan as well. Get to know a story of people whose passion to play and write music has overcome the storms of addiction and personal crises – and embark on a journey through the five fascinating decades of hard rock's rise, prime, decline and resurgence. You surely won't be disappointed.
ISBN: 978-0957144262
Publisher: Soundcheckbooks
Website:
http://www.neildanielsbooks.com/
http://www.soundcheckbooks.co.uk/letitrock/