by Matt Karp
– Senior Columnist —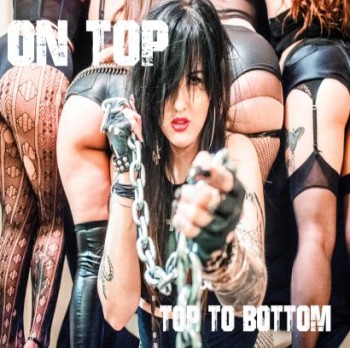 After 2011s' Top Heavy album, Pennsylvanian trio On Top follow up with a four track EP full of sleazy swagger.
80s' influenced glam metal continues to be a revisited and revitalized genre, and with "No Shame," Top To Bottom opens with a huge middle finger to the remaining cynics.
Jaron Gulino's double duty of vocals and bass is more memorable for the latter, as the raunchy bassline is excellent. Brian Davis is a revelation on guitar, replacing Alex Kulick since the bands' last release. Danny Piselli's drumming is heavy yet deliberate, and he completes a band that sound tight and ready to unleash havoc.
"Cold and Blue" begins with an intro that sounds very similar to the Crüe's "Dr. Feelgood," but the melodic chorus and multiple guitar hooks finds a band simply being themselves. Gulino's vocals are more aggressive than your normal glam rock vocalist, and this is refreshing to hear.
"Don't Go" contains some decent blues guitar rhythms and a raucous chorus, but the best is saved until last as the six-minute "Bad Love" refuses to let up the balls out rawk!
It is also the most polished song of the four, and all three members are (On Top) form. The chorus is strong with great guitar melody whilst Gulino's vocals are forceful. Add some more high quality solo's from Davis and some ear-arousing drumming from Piselli and you have a great ending to the EP.
On Top are finding their true sound now, and with some clear head bowing to Guns N' Roses and Mötley Crüe evident, this band are looking to take the crown as the new heroes of a genre that is waiting for the new wave to finally take over.
Genre: Hard Rock, Heavy Metal
Band:
Jaron Gulino- Vocals, Bass
Brian Davis- Guitar, Vocals
Danny Piselli- Drums, Vocals
Track Listing:
1. No Shame
2. Cold and Blue
3. Don't Go
4. Bad Love
Record Label: Horror Pain Gore Death Productions
Website: www.ontoprocks.com
Hardrock Haven Rating: 7/10