Rockstar Energy Drink Mayhem Festival 2014
by Anabel Dflux
– Senior Photojournalist —
July 5th, 2014 at San Manuel Amphitheater in San Bernardino, CA. —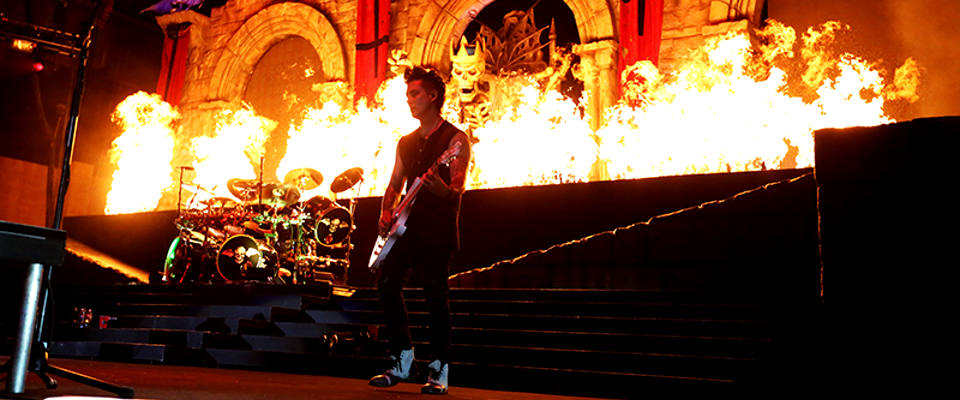 The most anticipated metal extravaganza in North America hit California this past weekend- the opening date of the 2014 Rockstar Energy Drink Mayhem Festival. A festival notorious for bringing together the hottest metal acts to thousands of fans across the country, Mayhem is a date in the calendar every metal head has booked. Though the heat reached a good 100 degrees, the sea of audience member never ceased- everyone stayed to catch as many of the acts as humanly possible.
This year brought together the likes of Erimha, Wretched, Mushroomhead, Cannibal Corpse, Suicide Silence, Body Count, Miss May I, Texas Hippie Coalition, Veil of Maya, King 810, Darkest Hour, Ill Nino, and Islander on the festival grounds, while Trivium, Asking Alexandria, KoRn, and Avenged Sevenfold killed it on the main stage. A grand mix sure to please even the most finicky of elitists. Each and every band stood out on their own ground, there wasn't a single band that outplayed the other. Mushroomhead kept fans cool with their giant water drums (much to the dismay of photographers), while Suicide Silence enticed the concert-goers with their new singer. Body Count brought the house down with infamous musician, television personality, and actor Ice-T, while Cannibal Corpse gave us some serious hair flipping action. Miss May I never hesitated during their performance, despite having just returned from their UK performance, and Victory newcomers Erimha gave the festival some much needed corpse paint.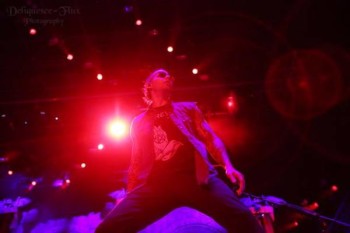 The first main stage act Trivium swept the amphitheater off its feet, playing crowd favorites such as Down from the Sky and In Waves. Each band member was very expressive and interacted with the crowd as best they could from the over sized stage. Following Trivium were the dapper lads in Asking Alexandria, with a Hollywood flare that couldn't be beat.
KoRn absolutely stole the night, the crowd grew ravenous for this infamous band. A commonly cited influence for many of today's well known acts, this band brought their absolute all to the show. The stage was adorned with the notorious microphone stand designed by H.R. Giger, an absolutely stunning piece of artwork. With magnificent purple, green, and blue lighting, the entire amphitheater was illuminated. Playing a slew of favorites, each and every song rang in the hearts of all in attendance. An indescribable experience for sure. Festival headliners Avenged Sevenfold made use of the entire stage, with huge castle props and live fire effects. The infamous A7x bats ornamented the top of the castle walls, with the giant skeleton king center piece coming to life during Hail to the King. With fire, and lights, and some of the biggest personalities on stage, the night ended on the highest note imaginable.
No amount of imagery or articles can truly describe the festival experience, it's surely something you must see for yourself. Til' next time Mayhem!
Rockstar Energy Drink Mayhem Festival 2014 Concert Photo Gallery
Visit Rockstar Energy Drink Mayhem Festival online: http://rockstarmayhemfest.com/