Ronny Munroe | Electric Wake
by Deb Rao
– Senior Columnist —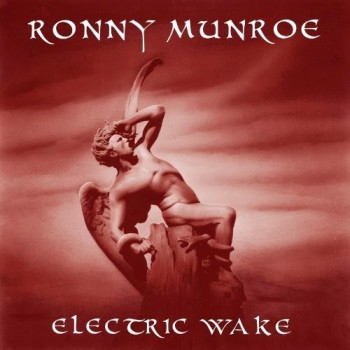 Metal Church singer Ronny Munroe is back with his third solo CD Electric Wake. This could be his strongest release to date with shades of vocals that are reminiscent of Ronnie James Dio prevalent throughout the entire album.
Electric Wake features many special guest performances including George Lynch on "Ghosts" and Pamela Moore and Dave Rude on "The Others." The opening track kicks off with the sizzling "Burning Time" illustrating Monroe's strong vocal prowess. Shades of Dio weigh heavy on this song.
Next up "Ghosts" featuring guitar virtuoso George Lynch which kind of has a Dokken "Kiss Of Death" vibe to it. It would have been great to hear more Lynch on this album. The title track "Electric Wake" has thrash overtones Stand out track is the bluesy "Not You Not Me." This song has great lyrics such as "Keep Your friends close and your enemies Closer." Well this could not be truer than in the music business. The overall bluesy vibe of this song is very infectious.
Ronny even slows things down for a second with a powerful spiritual ballad "Pray." This song is so beautiful and really demonstrates the versatility of Munroe's vocals. Back to the heavy hitting guitar assault, "Ritual Damage" resonates an early Black Label Society "Stillborn" vibe. Another standout track is "The Others" featuring Dave Rude and Pamela Moore. This song is the most commercial and heavy hitting. "The Others" is kind of an ode to metal. It is so inspiring to see Ronny Munroe keeping metal alive and fresh and new!
The CD ends with "United" which features a war of vocals and guitars competing to the finish line. Fierce vocals and powerful guitar shredding rule "United."
All in all, Electric Wake is refreshing and powerful. One of metal's top vocalists Ronny Munroe electrifies and takes no prisoners on this riveting release, proving he is indeed a rock and roll warrior of the highest caliber.
Genre: Heavy Metal
Band:
Ronny Munroe – Vocals
Paul Kleff- Guitars
Sean Baker – Guitars
Tony Rossi – Drums
David Donigian – Bass
Special Guests:
George Lynch
Dave Rude
Pamela Moore
Track Listing:
Burning Time
Ghosts
Electric Wake
Turn To Stone
My Shadow
Not You Not Me
Pray
Ritual Damage
Sleepless Mountain
The Others
United
Label: Rat Pak Records
Website: www.facebook.com/ronnymunroefb
Hardrock Haven rating: 9/10
Hardrock Haven Rating 9/10