by Justin Gaines
– Senior Columnist/News Editor —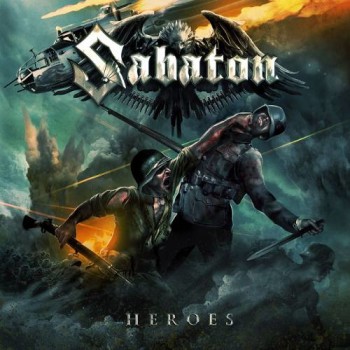 Swedish power metal battalion Sabaton is back with a new album, their seventh overall, titled Heroes. It's the band's first studio release since the lineup change that brought guitarists Chris Rorland and Thobbe Englund and drummer Hannes Van Dahl to the fold, and is the follow-up to their ambitious Swedish language album Carolus Rex.
Sabaton is back on familiar territory with Heroes. Not only are the lyrics once again in English, but the subject matter is, as always, focused on war. It's not a full-on concept album like Carolus Rex, but each song on Heroes focuses on an individual or regiment in various conflicts (though World War II is the primary theme) who have shown courage on and off the battlefield. Musically, well, it's a Sabaton album, so you know not to expect any changes. This is the same kind of galloping, martial, melodic power metal with marching rhythms and rousing choruses that they've delivered from the very start. They continue to play this kind of music very well, so that predictability is not likely to upset many Sabaton fans.
Predictability aside, Heroes is a dynamite power metal album. The best Sabaton songs are rousing enough to make you want to go marching to battle with the band, and there are songs on Heroes that definitely accomplish that. Album opener "Night Witches" and "Smoking Snakes" have that perfect combination of melody and heaviness. The slower (but still heavy) "Inmate 4859" and slower (though not heavy at all) "The Ballad of Bull" change the pace at just the right times. The album's brightest moments come from the stirring, Audie Murphy-inspired "To Hell and Back" and the fierce "Resist and Bite."
This one is pretty easy to recommend. If you're already a Sabaton fan, you're going to enjoy this album. If you're a Sabaton hater, Heroes is not going to change your mind. And if you're new to the band, but are a fan of bands like Brainstorm, Grave Digger, Powerwolf and Iron Savior, Heroes is as good an album as any to start with.
Edition Notes: There are a few different versions of Heroes available, all of which include the bonus tracks "7734" (a remake of a song from Sabaton's Metalizer album) and "Man of War." The digital version features a bonus cover of Metallica's "For Whom the Bell Tolls." There are also two different cover images.
Genre: Power Metal
Lineup:
Chris Rorland (g) (v)
Thobbe Englund (g) (v)
Par Sundstrom (b) (v)
Hannes Van Dahl (d) (v)
Joakim Broden (v) (k)
Track Listing:
Night Witches
No Bullets Fly
Smoking Snakes
Inmate 4859
To Hell and Back
The Ballad of Bull
Resist and Bite
Soldier of 3 Armies
Far From the Fame
Hearts of Iron
7734
Man of War
Label: Nuclear Blast Records
Website: www.sabaton.net
Hardrock Haven Rating: 8.5/10