Slash Ft. Myles Kennedy and The Conspirators
by Kathy Kindred
– Editor in Chief —
July 26th, 2014 at Harrah's Voodoo Lounge in North Kansas City, MO. —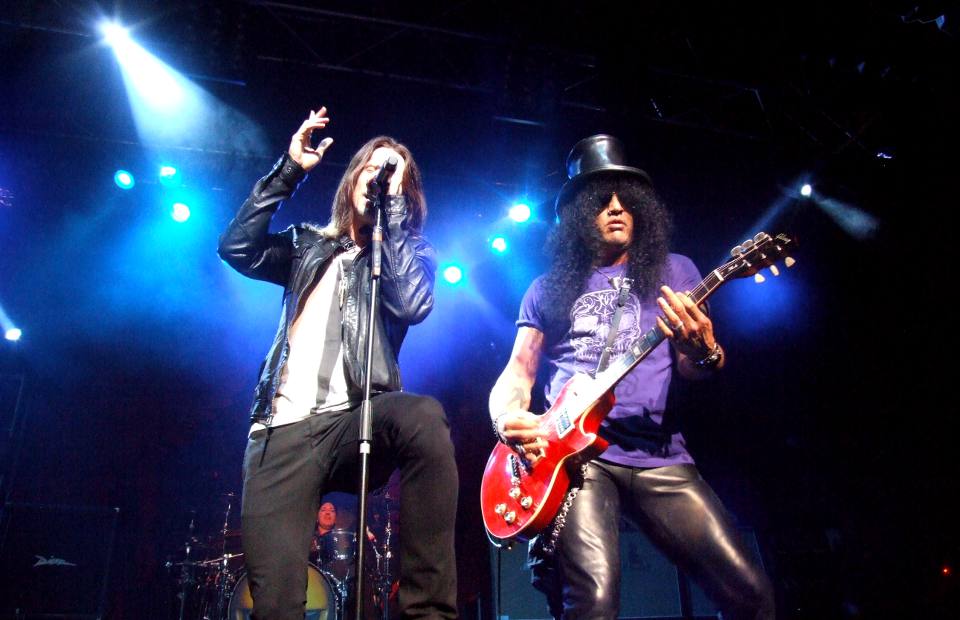 The VooDoo Lounge, Harrah's Casino, Kansas City, Mo. (July 26, 2014) — Slash with Myles Kennedy and the Conspirators brought their World on Fire tour to Kansas City, a stop that was squeezed into the tour schedule that delighted local and regional fans of the dynamic duo.
Slash and Kennedy have made prior stops here, and Kansas Citians have become quite a fan base for all things Slash. And this show was no different. The doors opened at 6:30 p.m., and the line was long for all those who sought to claim their up-close-and-personal spot. The crowd was diverse and included at least three generations, which was nice to see.
Although Slash always will be known as the former guitarist for Guns N' Roses, he's made it clear that he's shed the GNR skin, and he stands tall on his own merits. Slash is, well, Slash. He's an incredibly talented guitarist, and everything he touches seems to turn to gold. And Slash brought his usual A-game to his Kansas City performance, which began right at 9 p.m., not a minute late.
As soon as Slash could be seen entering from backstage, the crowd fully was engaged. Slash and Kennedy hit the stage with "You're A Lie," which got the crowd head banging and set the tone for the entire two-hour set, all of which had the crowd on its feet.
Make no mistake, Slash may have the women giddy with his fast, furious and fancy guitar playing, but Myles Kennedy possesses a sultry and broad vocal range, and his performance was spot on. Although fans cheered when he reproduced the "Axl" vocals during covers of "Nightrain" and "Sweet Child O' Mine," his own voice shined and carried fullness, especially during "Back From Cali" and "Starlight." Kennedy's throaty vocals were the perfect match for Slash's sexy guitar work during "Anastasia." Bassist Todd Kerns also belted out some awesome vocals during "Doctor Alibi." Brent Fritz offered tight and clean drums throughout the set, and, both, Kerns and rhythm guitarist Frank Sadoris delighted fans with their endless energy.
Slash and Kennedy ended the set with "Slither" and encored with "Paradise City," which seems to be their signature encore.
Overall, it was an awesome show. And part of what made it awesome was the respectful collaboration between Slash and Kennedy. If either of them has an ego, it's never evident on stage. While Slash may grab the headlines, he gives Kennedy the stage and steps in only when necessary. It's a fantastic working relationship among the entire group. And when everyone is having fun, the fans see it – that's what makes live performances so enjoyable.
Set List:
1. You're A Lie
2. Night Train
3. Hard & Fast
4. Standing in the Sun
5. Rack From Call
6. Stone Blind
7. You Could Be Mine
8. Dr. Alibi
9. Bad Rain
10. Not For Me
11. 30 Years to Life
12. Rocket Queen
13. No More Heroes
14. Starlight
15. World on Fire
16. Anastasia
17. By the Sword
18. Sweet Child O' Mine
19. Slither
Encore:
20. Paradise City
SLASH Concert Photo Gallery