Stars In Stereo | Leave Your Mark
by Joe Mis
– Senior Columnist —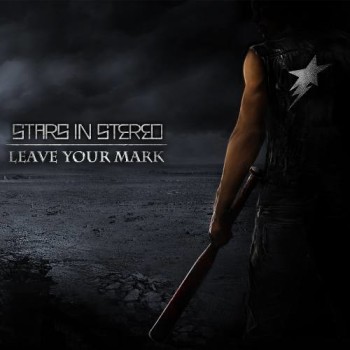 Leave Your Mark is a solid attempt by the LA-based band Stars In Stereo to do just that – and they succeed. Good riffs, flowing melodies, and superb vocals highlight the sophomore release by this female-fronted quartet.
Pulling inspiration from real life, Stars In Stereo paints a positive message while not hiding life's difficult moments. Fronted by the flexible voice of Bec Hollcraft, SiS delivers solid musical performances by guitarist Jordan McGraw, bassist "Frogs" McCormack, and drummer Drew Langan. Anyone familiar with the recent female-fronted alternative will pick up the obvious influences of Paramore, Avril Lavigne, Alanis Morisette, and Flyleaf. The band had set out to infuse more of their live sound into this new album, and decided that the best way to do so would be to record in their own studio.
"Not A Shot" opens with a definite Paramore vibe, but much heavier than most of Paramore's work. Hollcraft's vocals run from sweet to gritty, and the band ably backs her up. Bec's voice hovers near the top of her range on the drum driven "Echo," another track with a strong hint of Paramore wrapped up with some near symphonic passages. Bec definitely channels Alanis Morisette on the anthemic, angst-ridden, bass-driven "Leave Your Mark." Coheed and Cambria influenced the intense and punchy "Fair-Weather Friend". "Firestarter" is one of the highlights of the album, bringing a great rock groove to the fore, while "I Can't" alternates between soft and intense.
Great bass and drum coordination rock "Bed Of Thorns," a trend that continues into the moody and grim "Vacancy," a very spirited and heavy track that lets the band play all of it best cards at once. Powerful guitar hooks and booming bass push the angry "Wasted (Until I'm Gone)," while
"Turn Me" has a rolling bass line and a definite Flyleaf groove. The beautiful keyboard ballad "Fall Forward" takes the prize as the best song on the disc by far in terms of lyrics, tone and performance.
Overall, Stars In Stereo performs with precision, and certainly delivers energy and emotion. Well written lyrics that come from the heart are the true highlight, along with Bec's massive vocals. Leave Your Mark is well mixed and engineered, and is a pleasant listen from end to end.
However, all is not roses. In order for the band to truly break out and live up to their full potential they need to develop a unique sound. At this point the influences of their favorite bands are just too obvious – they need to tone that down a bit and find a happy medium – but on the plus side their lyrics are much more their own. Another flaw is the simple fact that all of their songs are very short, with most clocking in around 3 minutes – so as soon as you really get into the groove the song ends. This unfortunate sense of "abruptness" is only emphasized by the lack of guitar solos, breaks or instrumental passages – as if the album was written for people with very short attention spans.
Stars In Stereo is definitely a band with great potential, and will become an act to follow with just a touch more seasoning. The fact that guitarist Jordan McGraw is "Dr. Phil's" son may have brought the band too much press a bit too soon, but they have the raw talent to grow into a truly memorable band.
Genre: Alternative Rock
Band:
Bec Hollcraft (vocals)
Jordan McGraw (guitar)
"Frogs" McCormack (bass)
Drew Langan (drums)
Track Listing:
1. Not A Shot
2. Echo
3. Leave Your Mark
4. Fair-Weather Friend
5. Firestarter
6. I Can't
7. Bed of Thorns
8. Vacancy
9. Wasted (Until I'm Gone)
10. Turn Me
11. Fall Forward
Label: Hundred Handed Inc.
Website: http://starsinstereomusic.com/main/
Hardrock Haven rating: 7/10