Ted Nugent Jams at the Canyon Club
by Craig Newman
– Columnist —
July 12th, 2014 at the Canyon Club in Agoura Hills, CA. —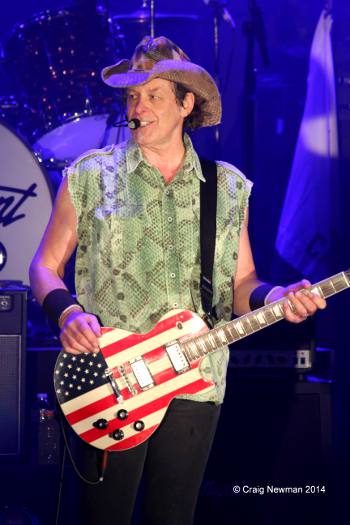 The Motor City Madman performed to a pack of the same age range audience at the Canyon Club in Agoura Hills, Calif. on July 12, 2014 to perform some songs from his new album Shut Up & Jam!
He and the band: Derek St. Holmes (guitar and vocals), Mick Brown (drums) and Greg Smith (bass) played for 90 minutes of high energy rock, blues (Motown), and jazz mix sound of music.
Yes, Ted is out spoken on the constitution, hunting politics, and salute to the Military especially what has been and currently happening and that he always mentions all at his shows. And he is not, nor should be ashamed of that. You will not agree with him on all topics or him with you. Respect him as a musician/business man. Yet it is the music that is the focus when he plays and talks about having been performing for many years.
Some songs from the new album included "Shut Up & Jam!," "I Love My BBQ," "Screaming Eagles" and "She's Gone." Audience favorites that rocked were "Cat Scratch Fever," "Wango Tango," "Queen Of The Forest," "Hey Baby," "Fred Bear," "Strangle Hold" and the encore "Great White Buffalo."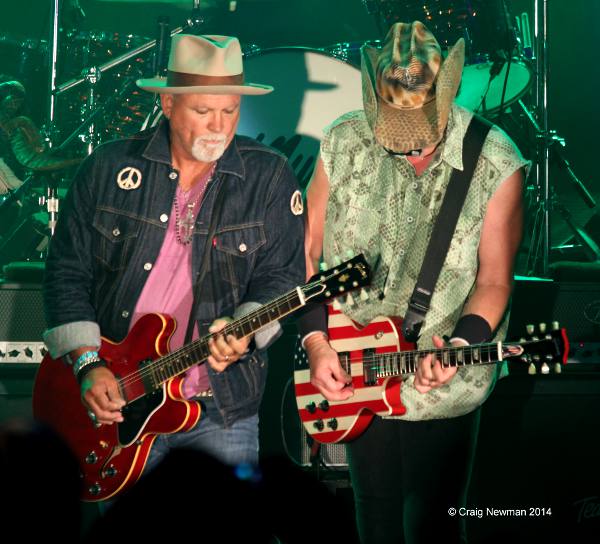 Opening the was the Detroit band Pistol Day Parade who are not a tribute band. They were not bad, and for not being known got a good reaction from the audience.
Overall it was a good and fun show and proved that Uncle Ted is not done yet with more music from his arsenal of fire.
Visit Ten Nugent online: http://www.tednugent.com/