U.D.O. | Steelhammer – Live From Moscow
by Justin Gaines
– Senior Columnist/News Editor —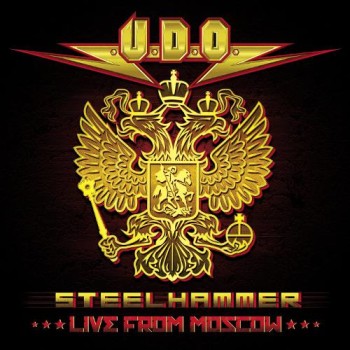 German heavy metal icon Udo Dirkschneider and his band U.D.O. are back with a new live offering, titled Steelhammer – Live From Moscow. Long time U.D.O. fans can be forgiven if their initial reaction to this set is "again?" or "already?" It's only been two years since the last U.D.O. live set (Live in Sofia), after all. A cynic might chalk this up to fulfilling an obligation to the label, but according to the man himself (writing in the liner notes), the combination of a new lineup and the fans' energetic reception was so great they had to capture it on this 3-disc (two audio CDs and a DVD) set.
Whatever the reason for yet another U.D.O. live offering, what matters is the performance, and the performance captured on Steelhammer – Live From Moscow is pretty terrific. Russian audiences have always been kind to Udo and company, and this is no exception. The band is in great shape here, and Udo works the crowd like the old pro he is, tearing through the better part of two dozen songs, of which only one is from his time in Accept (they close with a rousing version of "Metal Heart"). The set is weighted a bit towards the newer U.D.O. material, but they do reach all the way back to hit all the classics you might expect (though "Trainride in Russia" seems like an odd omission given the setting for the concert).
Whether Steelhammer – Live From Moscow is truly an essential purchase so soon after Live in Sofia is questionable, but it is a very energetic and enjoyable live release. It's obviously a must-have for the U.D.O. die-hards, but is also ideal for fans who might not have followed the band closely in recent years, since it gives you a great snapshot of the band's current sound and energy.
Edition Notes: The physical release of Steelhammer – Live From Moscow comes in a gatefold digipack and includes DVD featuring the full concert performance as well as behind the scenes footage and some related extras. The DVD is – obviously – the real highlight of the set.
Genre: Heavy Metal
Lineup:
Udo Dirkschneider (v)
Fitty Weinhold (b)
Andrey Smirnov (g)
Kasperi Heikkinen (g)
Francesco Jovino (d)
Uli Kollner (k)
Track Listing:
Disc 1
Intro
Steelhammer
King of Mean
Future Land
A Cry of a Nation
Trip To Nowhere
They Want War
Never Cross My Way
Stranger
Stay True
In the Darkness
Azrael
Disc 2
No Limits
Mean Machine
Burning Heat
Metal Machine
Devil's Bite
Go Back To Hell
Timebomb
Holy
Metal Heart
Label: AFM Records
Website: www.udo-online.de
Hardrock Haven Rating: 8.5/10