A Sound of Thunder | The Lesser Key of Solomon
by Jenn Carbaugh
– Columnist —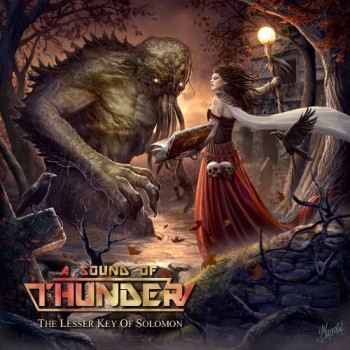 A Sound of Thunder is getting ready to release their fourth full-length album titled The Lesser Key of Solomon. This album was produced by Kevin "131" Gutierrez (While Heaven Wept, Raven, Shinedown). Time's Arrow was a major hit for 2013, so A Sound of Thunder is confident and eager to put out another album. The Lesser Key of Solomon is an ominous bundle of tracks that all seem to have a supernatural theme. As a band, they have so many musical ideas and projects, so they selected their darkest and foreboding material for this latest album.
The female vocals of the Washington D.C. metal act belong to Nina Osegueda continue to impress listeners. Some have called her "the lovechild of Rob Halford and Bruce Dickinson" because of her majestic vocals. This album even has some similarities to Dio. The sound of the band keeps evolving with each album, and it does not disappoint.
This album has so many theatrical components in the sound and the lyrics. This album will eventually be considered a metal classic. The story telling makes the music seem like a page turner. "Elijah" is quite melodramatic. It works so well with the theme of the album. "Master of Pain" is where the sounds similar to Dio can be heard. The style works well for Nina Osegueda because her vocals are haunting but still catchy and fun.
"Black Secrets" starts out slower but builds into one of the best songs on the album. The riffs are almost soothing, and the belting vocals blend together so well. This album seems to be another win for the band. They are on a roll for putting out material and good material at that. Not many bands can keep producing the way they do. A Sound of Thunder has their own sound, but they manage to keep their music lively and from being too repetitive. This album is definitely one that is recommended.
Genre: Heavy Metal
Band:
Nina Osegueda – vocals
Josh Schwarts – guitar
Jesse Keen – bass
Chris Haren – drums
Track Listing:
01. Nexus of Realities
02. Udoroth
03. Fortune Teller
04. The Boy Who Could Fly
05. Elijah
06. Master of Pain
07. Blood from the Mummy's Tomb
08. Black Secrets
09. One Empty Grave
10. House of Bones
Label: Mad Neptune Records
Website: www.asoundofthunderband.com
Hardrock Haven Rating: 10/10