Alice Cooper | Super Duper Alice Cooper
by John Kindred
– Publisher —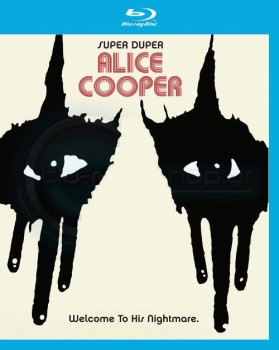 Eagle Rock Entertainment transferred the release of Banger Film's Super Duper Alice Cooper from theater to the Blu-ray and DVD format. The film chronicles Vincent Furnier's childhood to his taking on the mantle of the alter ego known as Alice Cooper. Originally premiering at the 2014 Tribeca Film Festival, the film was released in select theaters throughout the U.S. and finally debuted on Blu-ray and DVD.
Vincent Furnier's life story is an interesting one. The son of a preacher, his journey to stardom was fueled by the angst of alcohol, drugs, psychosis and eventual madness. He eventually spent time spent in a state-run mental facility, where he tackled his alcoholic demons, but upon leaving and returning to music, Furnier discovered a new vice, cocaine. The film documents the journey of Furnier becoming Cooper and highlights how the man got lost in the character of the alter ego known to the world and fans as Alice.
Fans are privy to archived footage and photos of Furnier, his early bands, such as the Ear Whigs and eventually the Alice Cooper band. From the '60s to mid-80s, we discover that Alice Cooper originally was the band's persona until it came to time to pin the moniker on Furnier. Eventually changing the group's dynamic and forcing Cooper in the spotlight to shine as a solo artist. The creation of Alice Cooper, a named derived from eerie use of an Ouija board, sets the stage for three decades of music and theatrics that has inspired musicians and fans for years to come.
The film combines audio interviews and archived Alice Cooper footage, including TV appearances, movie cameos, dramatic headlines and magazine spreads. Featured interviewees include: Iggy Pop, Elton John, John Lydon, Bernie Taupin, Dee Snider and of course Alice Cooper. The Blu-ray experience includes deleted scenes, Alice Cooper interviews from Metal Evolution and additional rare footage.
Dubbed as 'doc opera' – Super Duper Alice Cooper – puts together key elements of interviews, photos and archived footage into a two-hour showcase that attempts to flesh out just who, exactly, Vincent Furnier and Alice Cooper really are. And while the two battle a contest of wills, in the end Furnier gains control over the madman known to the world as Alice Cooper.
Genre: Hard Rock, Metal
Directed By: Sam Dunn , Reginald Harkema
Written By: Sam Dunn, Reginald Harkema
• Format: Multiple Formats, Blu-ray, Widescreen
• Language: English
• Region: All Regions
• Aspect Ratio: 1.77:1
• Number of discs: 1
• Rated: NR (Not Rated)
• Studio: Eagle Vision USA
• Run Time: 127 minutes
Label: Eagle Vision