Bombay Black | Walk of Shame
by Justin Gaines
– Senior Columnist/News Editor —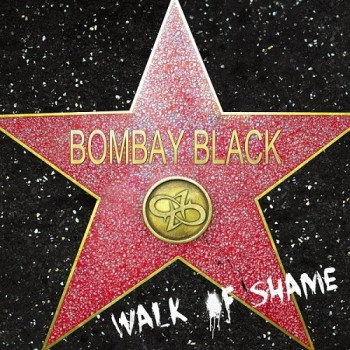 It's hard to believe, but we're already up to album number six from U.S.-based hard rockers Bombay Black. The hangover is barely faded from their 2012 album Bullets and Booze, and they're already taking us on the Walk of Shame. It's the band's first album with new drummer Barry Whaley, and it rocks … a lot.
If you're not familiar with Bombay Black, they're one of the few bands in the American hard rock scene that can go toe to toe with the best of the Swedish sleaze rock scene. Think classic Motley Crue and L.A. Guns with modern Crashdiet and Hardcore Superstar. It's a jacked-up, super-catchy take on the classic "hair metal" sound with a completely modern production and energy.
Walk of Shame is a non-stop rock n' roll party from start to finish. The album is dominated by the catchiest riffs you could ever want, and it is impossible to resist shouting along with the choruses to these songs. Album opener "Bye Bye Juliet" is a fantastic example of Bombay Black's brand of party rock, and "Dressed To the Nines," "America's Sweetheart" and the very metallic "Everything You Wanted" are also highlights. Aside from perhaps "Living on Mars," which has a bit too much of a modern radio vibe, there isn't a dull moment on Walk of Shame.
This one is easy to recommend. If you like your rock n' roll loud, catchy and fun, you need to hear Walk of Shame. Fans of the new breed of melodic hard rock bands – think Crashdiet, Tango Down, Crazy Lixx, Sex Slaves and Airbourne – will love it. And Bombay Black is the perfect "wake up call" for those fans of bands like Motley Crue, L.A. Guns and the like who thought bands stopped making this kind of music in 1993. These guys rock like grunge never existed in the first place!
PS – If you get a chance to catch Bombay Black live, do not pass it by. Their brand of high octane party rock translates very well on stage, and they throw in some pretty killer cover songs as well.
Genre: Hard Rock, Melodic Hard Rock
Lineup:
Erik Johnson (v) (g) (k)
Ty Sims (b) (v)
Justin Velte (g) (v)
Barry Whaley (d) (v)
Track Listing:
1. Bye Bye Juliet
2. Sex & Gasoline
3. America's Sweetheart
4. Come Over Here
5. Dressed To the Nines
6. Living On Mars
7. Haunting L.A.
8. Superstardumb
9. Everything You Wanted
10. Pretty People
11. I May As Well
12. Sucker
13. Sunshine
Label: Triage
Website: www.bombayblackmusic.com
Hardrock Haven Rating: 8.5/10