Dave Goddess Group | Blown Away
by Joe Mis
– Senior Columnist —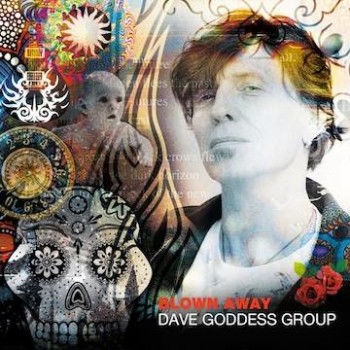 Once again, Dave Goddess and friends have proven that classic rock isn't dead! The Dave Goddess Group has recently released a 4 track EP of new material entitled Blown Away, and fans of the genre will quite probably feel that way.
To put it simply, Blown Away is refreshingly FUN. Lively toe-tapping tunes are the thing here, all delivered with precision and fire. Dave Goddess handles lead vocals and guitars, and he is backed by a truly fine band: Mark Buschi on bass; Tom Brobst on keyboards, saxophone, and flute; and Tom Bazylak on drums. These guys play very well together and seem to have a great deal of fun doing it – and that's the core of rock and roll. Their enthusiasm for the music is obvious throughout, and the only downer here is that there are only four songs on the EP.
Twangy guitars and a great bass line open "Blown Away" before Dave's Tom-Petty-meets-Mark-Knopfler voice takes over, lamenting past mistakes and rooting for a chance to start over. This track is filled with everything that make classic rock truly classic – bluesy rhythms, strong guitar work, saxophones, keys, solid backing vocals, heartfelt lyrics and enthusiastic performances. The up-tempo "One Man's Passion" is a kicky tune that takes a good, hard look at the differences between people, while delivering a great old school rock feel and inducing a good deal of toe-tapping and perhaps even rhythmic clapping. "Fall From Grace" is reflective, slow rocker featuring decent acoustic guitar work – almost the perfect vehicle for Dave's gritty vocals and a showpiece for passionate guitar work. The mid-tempo "Common Ground" is probably the most modern track, adding plenty of keys over an infectious rhythm line.
Simple and basic classic rock is what you'll find here, albeit classic rock with a modern flair. Well crafted songs, a highly polished delivery, and an ever present sense of melody make Blown Away a worthy successor to DGG's full length Something New. Somehow DGG manages to produce very old-school music, yet makes it sound fresh and vital. The music is sincere and "real," free from the massive overdubs and studio tricks that plague some modern rock. Warmly engineered and well produced, Dave Goddess Group's Blown Away belongs in the collection of every blues-rock fan.
Genre: Classic Rock
Band:
Dave Goddess (lead vocals, guitars, keyboards, percussion)
Mark Buschi (bass, background vocals)
Tom Brobst (keyboards, saxophone, flute)
Tom Bazylak (drums)
Track Listing:
1. Blown Away
2. One Man's Passion
3. Fall From Grace
4. Common Ground
Label: Independent
Website: http://www.davegoddessgroup.com
Hardrock Haven rating: 9.5/10