by Kent McIntire
– Photojournalist —
August 9th, 2014 at Birch Run Expo Center in Birch Run, MI. —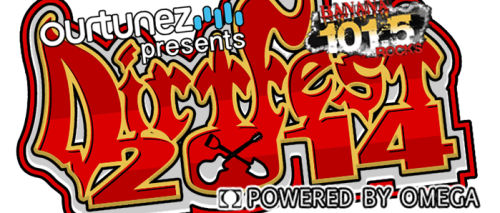 This was my first trip to Dirt Fest in the quaint Michigan town of Birch Run, mostly known for the outlet mall and the exit one takes to go to the "World's Largest Christmas Store." Christmas in August? If you're a hard rock and metal fan, that's exactly what you got!
With six stages hosting more than 60 bands for nearly 11 hours, Dirt Fest did not disappoint. Admittedly, looking at the lineup, I had not heard of most of the bands and was not sure what to expect. Living in Metro Detroit, of course I had heard of Battlecross, [HED] PE, and Psychostick. There were other up and coming bands that may not be household names yet like Framing Hanley, Smile Empty Soul, and my favorite up and comer known as Nothing More. Mark my words – – Nothing More will be the next big thing! There. I said it here, but I digress. Of course there were national acts thrashing the main stages (for which there were two) hosting Tantric, Powerman 5000, Sid Wilson of Slipknot. Let's not forget the closing act from Killswitch Engage that tore the place apart. Just when you started to see those in attendance start to fade with the setting sun due the heat and sheer exhaustion, Killswitch Engage takes the stage and lights the place on fire with their entrance to Kool and the Gang's "Celebration."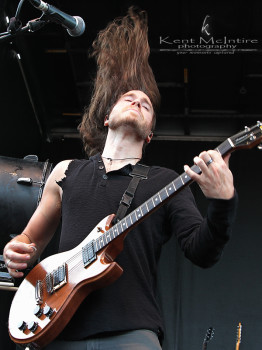 I know it's been written in other blogs, but I have to agree with the somewhat negative comments about the time in which Chimaira played. This band has all of the ingredients to be a headliner in their own right. While they played on one of the two main stages, a 3:45 start time seemed strange to me because I expected them to be one of the showcase bands and a midday start just didn't fit that expectation in my mind. Nevertheless, they put on a fantastic show with lots of energy, crowd interaction, and didn't disappoint.
If I were handing out awards for giving the crowd what they wanted, the two bands that would win are Powerman 5000 and [HED] PE. [HED] PE took the stage before Powerman 5000. Front man Jared Gomes, aka "MC Underdog" or "MCUD", strolls on stage in his muscle shirt with guns blazing (this boy is RIPPED), the master of Rapcore, Rap Metal, whatever you want to call it, packed as much old and new music as he could in their short 35 minute set. Oh, I'd be remiss if I did not mention the tribute to Bob Marley which I have to believe was inspired by the pungent order that was wafting over the crowd. When MCUD announced theirs set was done, the crowd once again erupted – this time with a resounding "BOOOO!" Powerman 5000 played for nearly an hour ending right before Killswitch Engage took the neighboring stage. When PM5K hit the first chords of "When World's Collide" the crowd of however many thousand erupted, horns raised, and everyone jumping in unison. For clarification and before our beloved Derric Miller asks, no. No thumbs were visible. Thanks.
I must go back and reflect on my statement above regarding the band Nothing More. I had the privilege of interviewing Jonny Hawkins and Daniel Oliver before their set. For the light that is starting to be shed on these guys, they are taking it all in stride and frankly, don't let all the press go to their heads. If you read their Facebook page, there's mention of their arms being branded. I asked them if they would share the story of what that meant and Jonny went into great detail. Be watching for the interview transcript here on HRH. It will be very clear to you where they came from, how they got to where they are, and gives you a glimpse of where they want to go. If for nothing else, the story of their arm branding is enough to make you agree these guys deserve all the success in the world. Nothing More is getting ready to hit the road with Five Finger Death Punch, Volbeat, and HELLYEAH. On the outside they are calm, cool, and collected. Asking about the upcoming tour, I could see the little kids in their eyes just wanting to scream with excitement. Watch for these guys. I'll go on record saying they are about to hit … and hit BIG!
Dirt Fest 2014—that's a wrap! \m/
LIVE! | Dirt Fest 2014 Concert Photo Gallery
Visit Dirt Fest online: http://dirtfest.com/
Special thanks need to be given to Tom George of FiXT Publicity!
Follow me on Twitter @KentMPhoto
Ourtunez.com main stage powered by Omega:
12:40 p.m. — It Lies Within
1:50 p.m. — Beyond Threshold
3:05 p.m. — Tantric
4:30 p.m. — Battlecross
5:55 p.m. — Sid of Slipknot
7:25 p.m. — Nonpoint
9:20 p.m. — Killswitch Engage
Lascoford.com main stage powered by Omega:
12:05 p.m. — Arcanium
1:15 p.m. — Sydetrakt
2:25 p.m. — Psychostick
3:45 p.m. — Chimaira
5:15 p.m. — Nothing More
6:40 p.m. — HeD pe
8:15 p.m. — Powerman 5000
National Rock Review stage powered by Diesel Concert Lounge:
12:10 p.m. — Kissing Candice
12:50 p.m. — Immoralis
1:30 p.m. — Through The Ashes
2:10 p.m. — Nuisance
2:50 p.m. — Blue Felix
3:35 p.m. — Eyes Set To Kill
4:20 p.m. — Critical Bill
5:05 p.m. — Like A Storm
5:50 p.m. — Gemini Syndrome
6:35 p.m. — Framing Hanley
7:20 p.m. — Sleepwave
8:05 p.m. — Smile Empty Soul
8:50 p.m. — Beast In The Field
37 Studios / List St Studios stage:
12:40 p.m. — 1876
1:20 p.m. — Bulletproof Snow
2:00 p.m. — Sins In Stereo
2:40 p.m. — Brody And The Busch Rd Trio
3:20 p.m. — Aim Your Arrows
4:00 p.m. — Hour 24
4:40 p.m. — Drawn To Fury
5:20 p.m. — Gift Giver
6:00 p.m. — Autumn Coma
6:40 p.m. — Ana
7:20 p.m. — braidedveins
8:00 p.m. — Hail To The King
8:40 p.m. — Deveraux
Banana 101.5-FM Radio "Flint Happens" stage:
12:20 p.m. — Kougaran
1:00 p.m. — Dystopian I
1:40 p.m. — Bridge to Grace
2:20 p.m. — First Decree
3:00 p.m. — Cadre
3:40 p.m. — My Perfect Nightmare
4:20 p.m. — Dead Sky
5:00 p.m. — The Mighty Swine
5:40 p.m. — Black Flower Blossom
6:20 p.m. — The Finale
7:00 p.m. — Switchblade Scarlett
7:40 p.m. — Saint Ridley
8:20 p.m. At Ocean's Depth
Arnar Clothing "Rise Above the Hate" stage:
12:30 p.m. — Fides In Us
1:10 p.m. — Sunflower Dead
1:50 p.m. — Hell Rides North
2:30 p.m. — Laid In Stone
3:10 p.m. — Flood Of Souls
3:50 p.m. — Vicariant
4:30 p.m. — This Is Life This Is Living
5:10 p.m. — Martyr For Madison
5:50 p.m. — Murder FM
6:30 p.m. — Know Lyfe
7:10 p.m. — The Persevering Promise
7:50 p.m. — Shudder
8:30 p.m. — The 2nd System
Arnar Clothing autograph tent:
2:30 p.m. — Like A Storm
3:10 p.m. — Gemini Syndrome
4:00 p.m. — Framing Hanley
5:00 p.m. — Sleepwave
6:00 p.m. — It Lies Within
7:00 p.m. — Blue Felix
InkAddict autograph tent:
1:30 p.m. — Eyes Set To Kill
2:30 p.m. — Sid
3:30 p.m. — Nothing More
4:30 p.m. — HeD pe
5:30 p.m. — Nonpoint
6:30 p.m. — Smile Empty Soul
7:20 p.m. — Killswitch Engage