Dragonforce | Maximum Overload
by Jenn Carbaugh
– Columnist —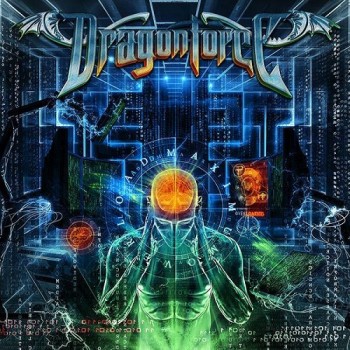 Dragonforce has released their latest contribution to their over-the-top, power metal collection. The speeds and technicality of their music is always a topic of interest for metal fans. Whether or not it is pure skill or studio deception, their music is certainly in a category of its own. With the departure of ex-singer ZP Theart, some worried if Marc Hudson could drive the band to keep their unique sound. Matt Heafly adds to the vocals on a few tracks as well. There are also bonus songs and a few noted covers on their new album Maximum Overload.
Each song on the album seems to have an introductory section, but then as the song continues, it begins to sound like every other Dragonforce song. It is insanely fast and the verses tend to blend together. Finding the chorus of a song starts to feel like a chore. There aren't many tracks that stand out or could stand alone except for maybe one. "Symphonies of the Night" is a little different. There seems to be more detail in this song. Dragonforce doesn't typically skimp on detail, but this song feels like they attempted to step outside of their box. They didn't succeed completely, but they didn't fail either.
The rest of the songs begin to bleed together for the rest of the album. Metal played at hyper speeds can get boring and almost exhausting, but they always have clean instrumentals. They attempt some mid-paced music, but Maximum Overload is a good title to describe this album. The three singles from this album are good samples of the consistent sound that they tend to put out. "The Game" is the opening tract, and if you don't remember what Dragonforce is all about, this song will definitely remind you. "Defenders" and "Ring of Fire" are the other singles. "Ring of Fire" is of course a Johnny Cash cover. They didn't do much justice to the legend. Dragonforce literally just made the song forgettable. The lyrics are there, but the rest sounds like the quick paced Dragonforce songs on the rest of the album. They seem to attempt to add a bit of diversity, but it is not enough to set the tracks apart from the others entirely.
Dragonforce is still playing the same music they have always played, and they certainly own their style. They are still overly technical and immensely fast. Even with the covers, featured vocals, and bonus tracks; they still sound monotonous and like the same old Dragonforce. A change up in the band members didn't cause them to lose their sound at all. If you are a fan, then the album is worth listening to. They do have outstanding skill, but their style isn't for everyone.
Genre: Power Metal
Band:
Marc Hudson – lead vocals, backing vocals
Herman Li – guitar, backing vocals
Sam Totman – guitar, backing vocals
Vadim Pruzhanov – keyboard, piano, backing vocals
Dave Mackintosh – drums, backing vocals
Frédéric Leclercq – bass, backing vocals
Track Listing:
01. The Game
02. Tomorrow's Kings
03. No More (feat. Matt Heafy)
04. Three Hammers
05. Symphony of the Night
06. The Sun is Dead
07. Defenders
08. Extraction Zone (feat. Matt Heafy)
09. City of Gold
10. Ring of Fire (Johnny Cash Cover)
Special Edition Bonus Tracks
11. Power and Glory
12. You're Not Alone
13. Chemical Interference
14. Summer's End
15. Fight to be Free (Shadow Warriors Cover)
16. Galactic Astro Domination (Instrumental)
Label: Metal Blade Records
Website: www.dragonforce.com
Hardrock Haven Rating: 4/10